Meet Our Small-But-Mighty Team
Sabine: Founder, Chief Growth & Creative Officer (Amsterdam area, Netherlands)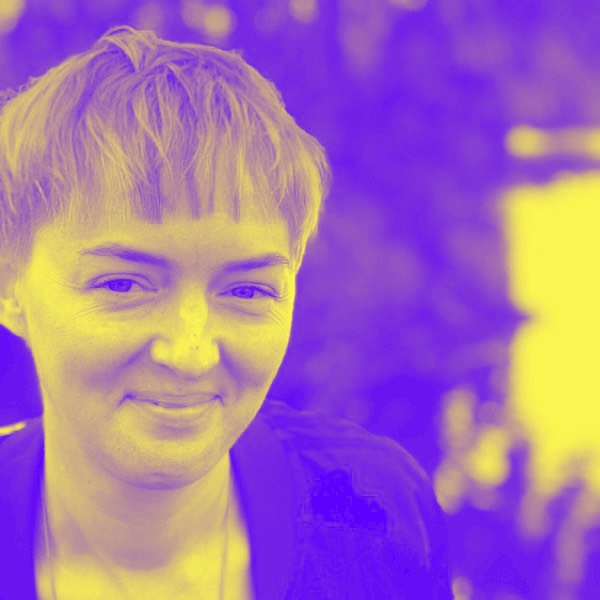 Strategic thinking +++++

100%

100%

Conversion copywriting +++++

100%

100%

Values-based working ++++

80%

80%

Ice Skating –

10%

10%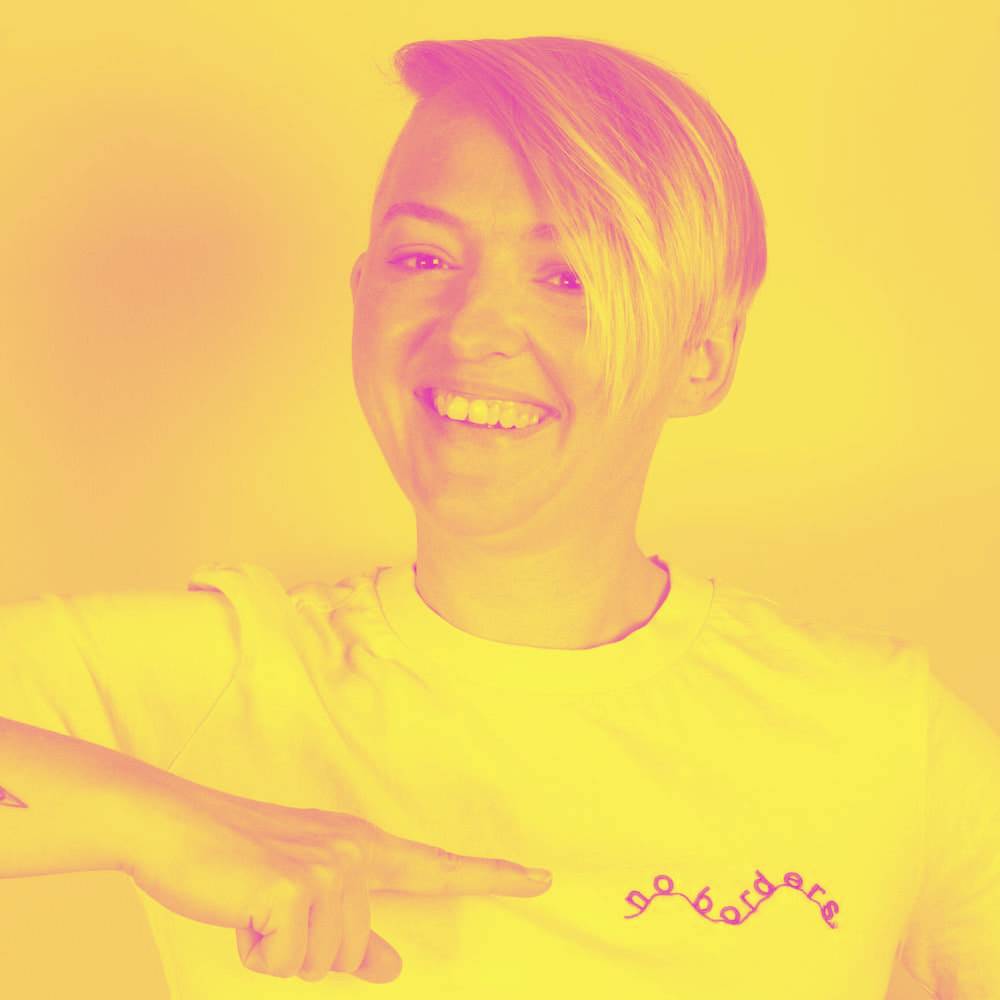 If you're in a hurry, all you really need to know is this:
I head up Learning & Development at The Ethical Move — the social movement for ethical marketing & sales.
I mentor creatives & business leaders who want to work in line with their values.
I've been creating brand tone of voice guides & UX copy for big brands since 2012 — and conversion copy since 2018.
Service Delivery & New Business
Message Finding / Research & Discovery
German, Dutch > English transcreation & localisation
English, Dutch > German transcreation & localisation
Conversion optimisation consultancy — especially in complex B2B settings
If you're after the full story, read on.
You could say I've been writing copy since I was 15, when I made ads to get pupils joining political groups and fighting for better education.
15 years later, I started the global copy team at LEGO Customer Service. The tone of voice, copywriting and advisor training we created made LEGO customer service emails go viral — such as the one that went out to Luka Apps. Proof that customer service is a marketing function.
The best way to sell anything is by truly caring for the person you're talking to.
I then spent a few years at a London-based consultancy: writing web copy, voice scripts, chat and email messages for over 70 iconic brands.
Including cruise companies, online casinos, car companies involved in the emissions scandals… and British tabloids.
I was contributing to the climate catastrophe, xenophobia and inequality every day.
It was really during that time that I started to sense the urgency…
I simply could no longer ignore the fact that people and planet will soon go to **** if we don't get our act together.
If we want to make sustainability the norm, we need more sustainable communication.
If we want people to take more responsibility, we need more responsible communication.
If we want to break down the barriers that keep us from working together, we need communication that connects us.
That's why I started From Scratch.
Because to stop climate change, save species from dying and make society more humane, we need a radical rethink.
We need a culture change. 
Copy is the best (perhaps even the only) way to achieve that.
Which means, we need to harness the best that the humanities have to offer — from design thinking and UX practices to ecolinguistics, from psychology to socio-political studies.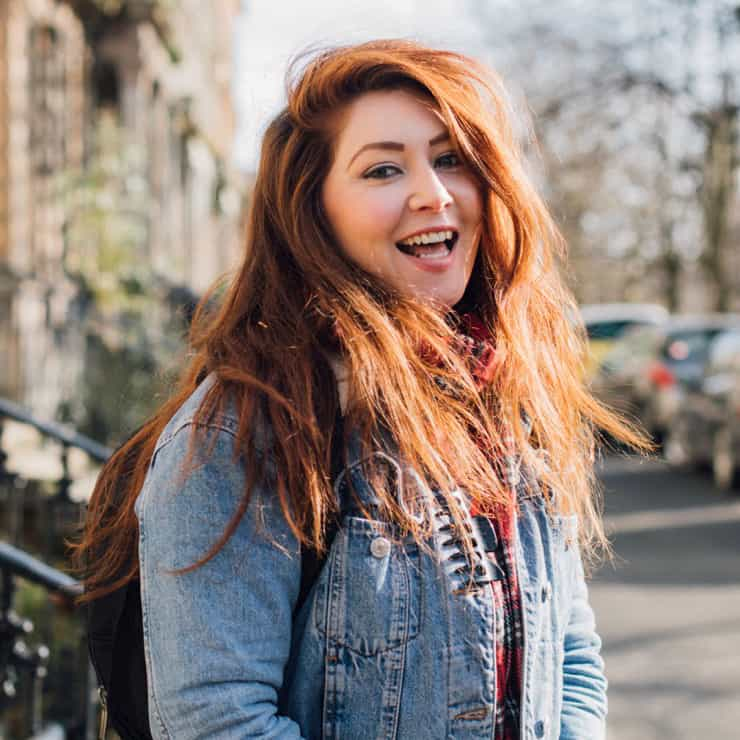 "Sabine is a pro! I always knew what was happening and at what stage we were at. She's efficient and organised and I loved it.
When you work with From Scratch you'll get someone who genuinely cares and is invested in your brand.
You won't just get words, you'll come away with a better understanding of your own brand and competitors."
— Ashley Baxter, Founder, With Jack

Holger: Chief Client Officer | Strategic Transformation 

(Amsterdam area, Netherlands)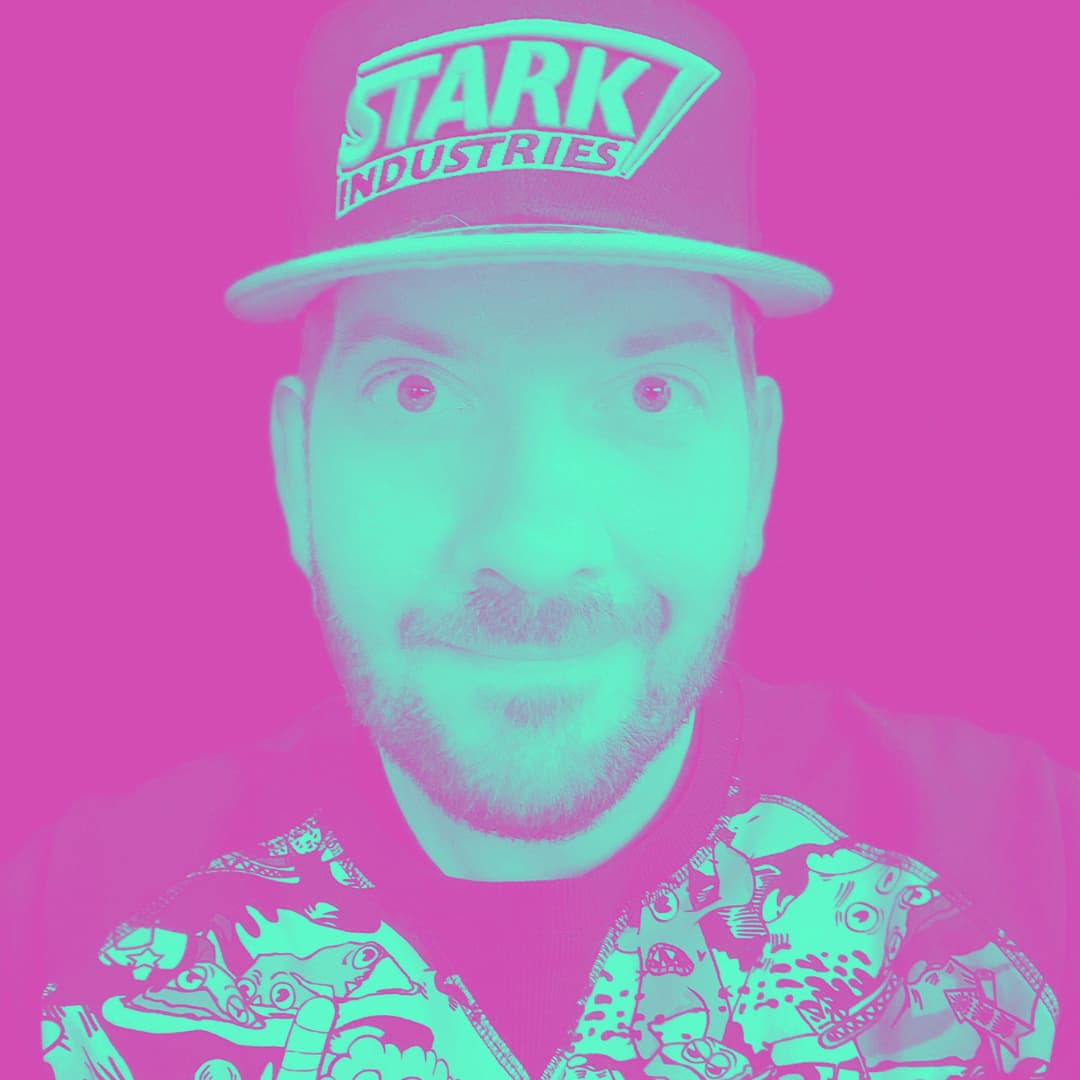 Strategic thinking +++++

100%

100%

Creative ideation +++++

100%

100%

Sales +++++

95%

95%

Phone calls with strangers –

45%

45%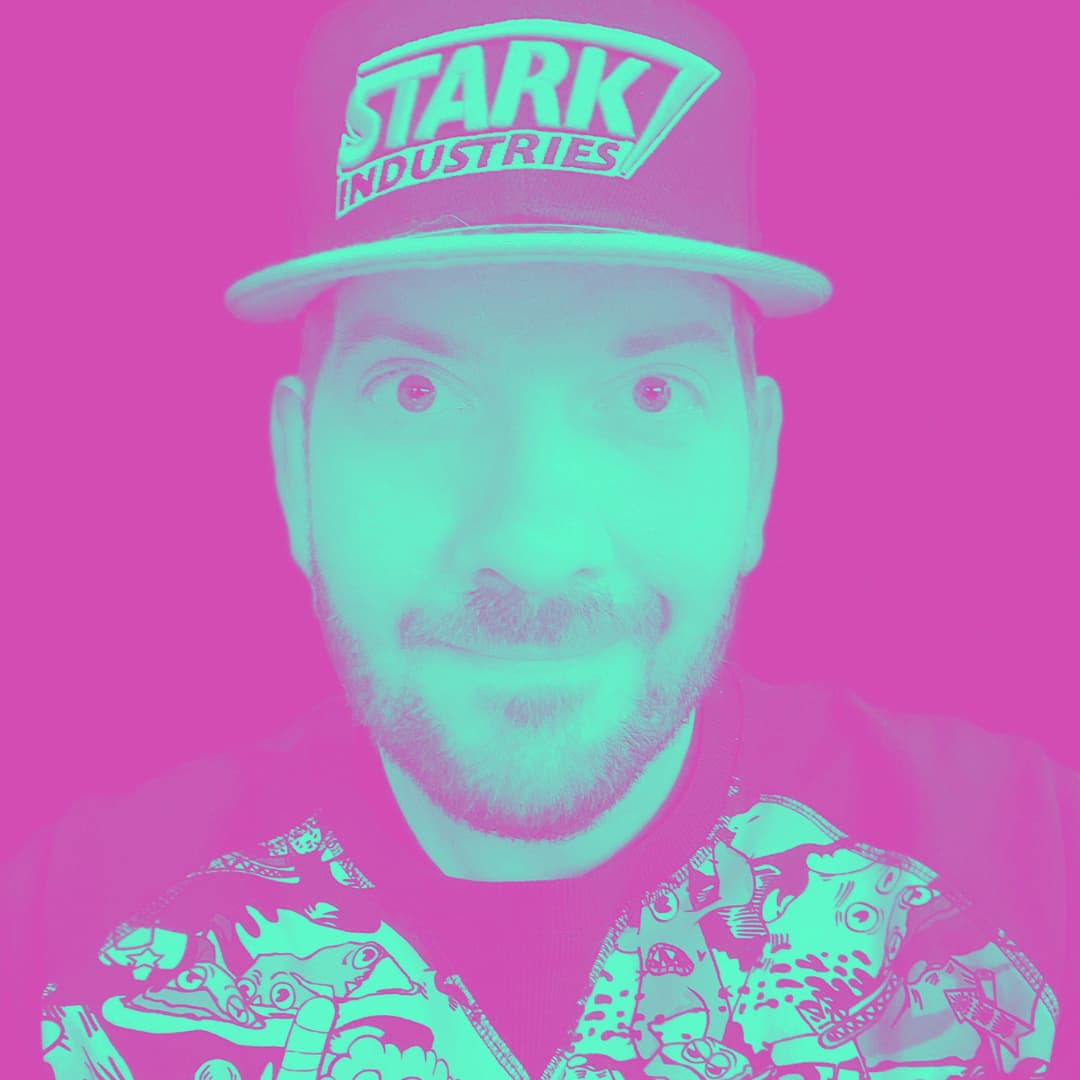 I worked in SaaS for more than 16 years, where my journey included Product Management, Strategic Partnerships, Customer Success and Strategic Sales Leadership. During that time, I helped some of the smartest brands to launch groundbreaking products, collaborate remotely, deliver world class content and increase their digital product design maturity.
Sales, Commercial & Product Strategy
In all the work we do, there's often a point where the copy, the message finding or the brief ends…
…and our clients need deeper strategic work so they—and their message—can deliver their full potential.
So I look after our strategic clients and focus on the organisational transformation part of our mission.
In practice, my work is all about helping you to create better change management, communicational structures, organisational architecture and collaboration.
I am also:
A herder of 3 cats and dad to 2 Spanish Greyhounds
Passionate about sustainable mobility and a carbon-free human-centric economy
An early adopter of electric motorcycles
Réka: Polyglot Multipotentialite, Passionate Earthling (Linz, Austria / Balatonlelle, Hungary)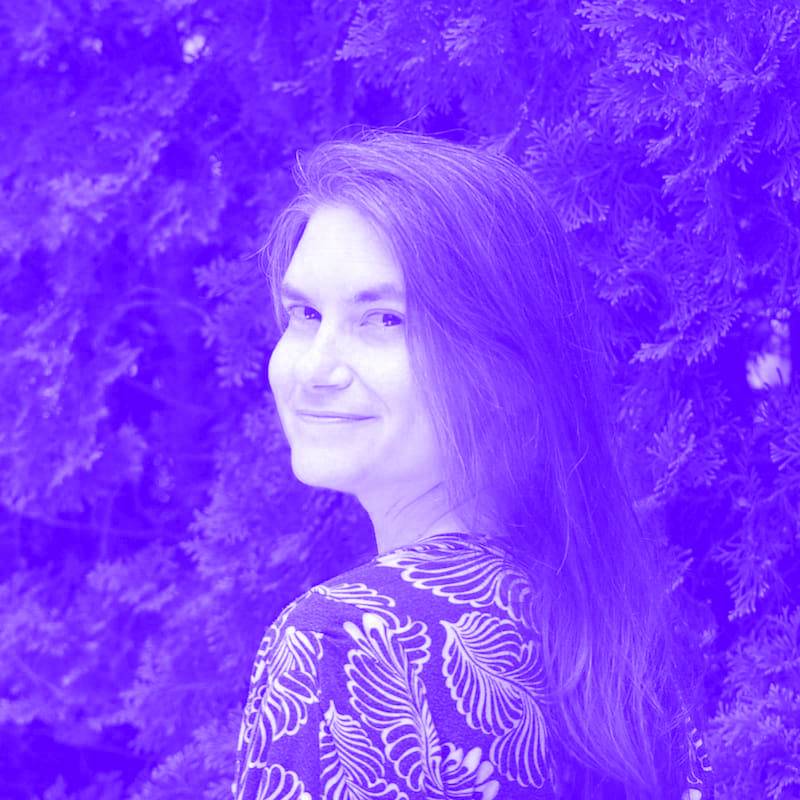 Thinking in systems +++++

100%

100%

Working with nature +++++

100%

100%

Painting birds +++++

95%

95%

Singing –

20%

20%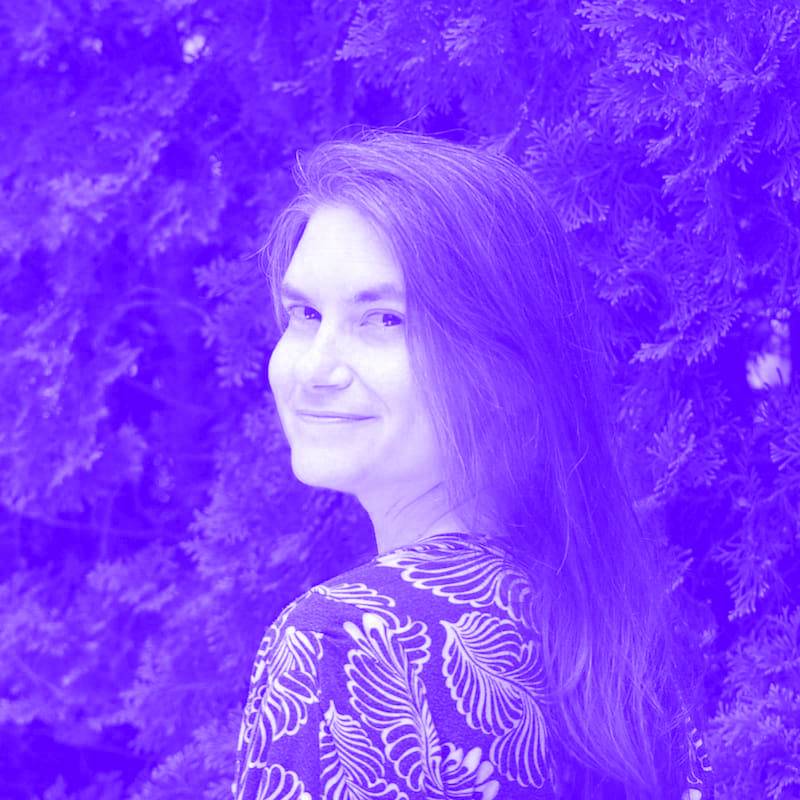 As a VA, I manage meetings, projects and the From Scratch inbox — amongst other things.
Feel free to connect on
LinkedIn
!
English and German project coordination
Hungarian > English translation, editing
English > Hungarian translation, editing
German > Hungarian translation, editing
The back office is my bread and butter. I set up and run systems and processes that make life easier for the entire team, and contribute to a smooth customer experience.
Being a multipassionate person, I've completed diverse studies from management to interpreting to permaculture.
Before starting my own business, I was employed in various sectors: banking, IT consulting, non-profit fundraising, manufacturing etc.
All this has provided me valuable insight into the inner workings of many companies, from small businesses to multinational corporations.
Now I use the knowledge I've acquired to make sure that everything runs smoothly behind the scenes, without losing sight of the big picture.
Being a team member at From Scratch allows me to align with my core value: working with nature (my own, the team's, and the environment).
In my free time, you can find me in the garden planting edibles or watching birds.
Alice: Client Experience Manager | Helping you feel right at home (Mainz, Germany)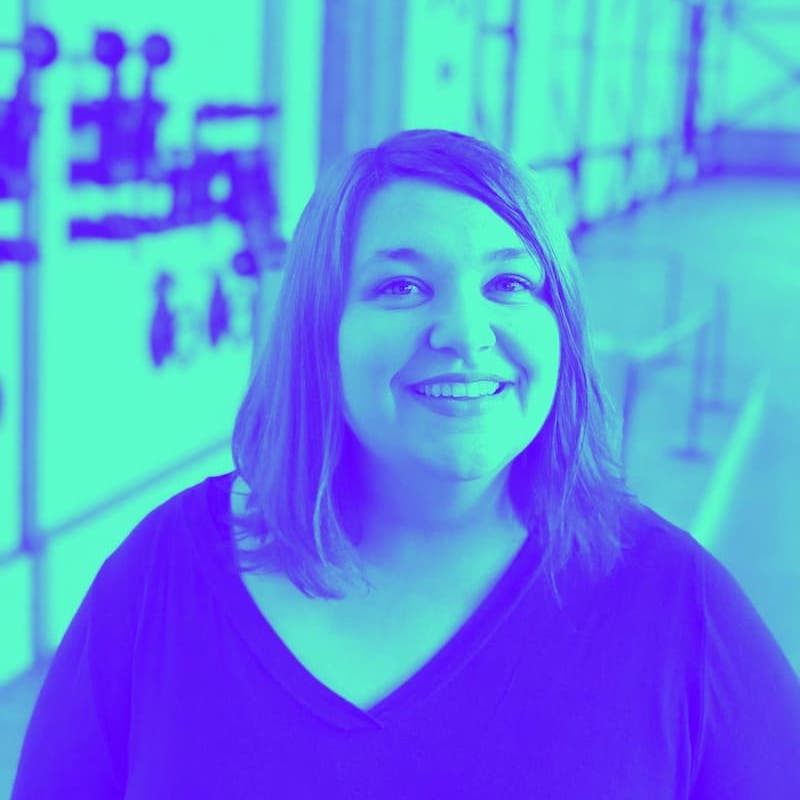 Organisation +++++

100%

100%

Communication +++++

100%

100%

Researching and finding creative solutions +++++

95%

95%

Keeping calm when seeing wombats –

20%

20%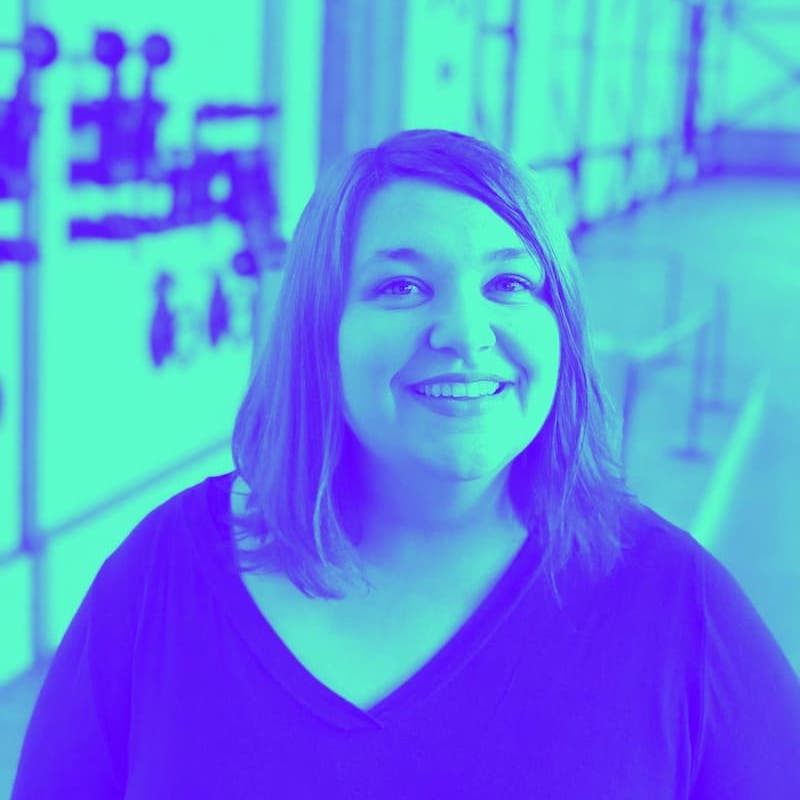 … and communicating and organising are right up my alley.
First point of contact for prospects & clients
German content, copywriting & editing
English content, copywriting & editing
I've been working in the creative sector for more than 13 years now, always keen on finding solutions and creative ways to make things happen – no matter how small, big or impossible they might seem at first.
I have a passion for ethically sourced materials, the English language, wombats (big surprise), creating an atmosphere people can thrive in, learning and teaching.
And communicating in a way that makes people seen, heard and understood.
Because I firmly believe in language raising awareness and uniting us all.
I'm super excited to join the team and help create an impact as From Scratch's new Client Experience Manager.
When I'm not scribbling timetables, researching and contacting project members, you'll find me cooking, lino cutting or farming on my newly rented field.
Nadine: Word weaver with a heart made of fur and feathers (Koblenz, Germany)
Poetic precision +++++

100%

100%

Spotting the essence of stories +++++

100%

100%

Fairy tale voice +++++

95%

95%

Drawing –

20%

20%
Words are the cells of my organism. I experiment with them until they embody the story you want to tell.
German and English writing and editing
Editing professional Polish or Russian > German translation/localisation
English > German translation, localisation
Voice-over and audio material – writing, editing, narrating
To merge the arts with the cause is what I discovered as my favourite way to convey a mission, to reach the heart and the brain, to tickle the feet of empathy.
Mine is the protection of the creatures sharing planet Earth with us.
What is it that you are dedicated to?
Let us explore language — the magic key to our inner and the external worlds, a sparkling soul warmer, an instrument everyone can play to reflect and spread their message.
I am grateful to contribute my craft to the commitment of this enchanting agency and to your mission.
My professional footprints:
1995-2001: First steps in print and radio journalism
2007: M.A. in Comparative Literature and Polish Philology at Freie Universität and Humboldt-Universität, Berlin
Since 2007: freelance writer, editor (focussed on literature and with deep insights in the e-learning, music, and fitness industries) and nomad (I 'set up my tent' in Czech Republic, Russia and France.)
I am fluent in prose and singing.
Julia: Where Creative Meets Analytical
(Ayrshire, Scotland / Lisbon, Portugal)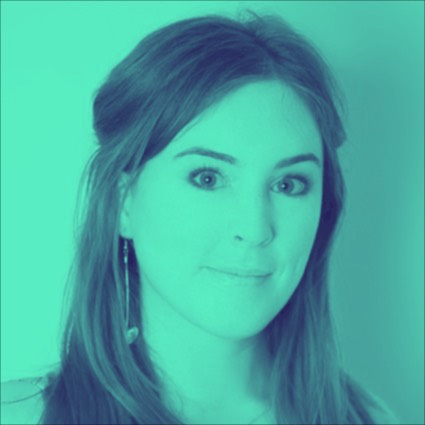 Perfectionism +++++

100%

100%

Argentine tango +++++

100%

100%

Day dreaming about having an animal sanctuary +++++

95%

95%

Ability to walk past the chocolate cupboard without 'self-medicating' –

20%

20%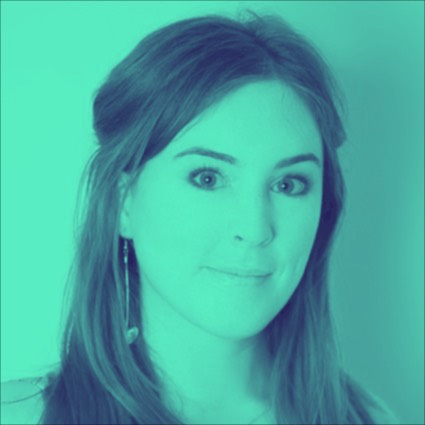 I was going to give up copywriting and translation and open a packaging-free shop.
English copywriting & editing
French > English localisation
German > English localisation
Dutch > English localisation
But then I realised I'd need a loan with too many zeros on it. Who knew fancy scales were so expensive?
Like Sabine, I'd spent years writing copy that wasn't in line with my values. In fact, I was encouraging people to buy more things they didn't even need.
Kind of strange for a lifelong vegetarian and minimalist who was using family cloth and metal straws long before they were cool.
These days I combine my creative copywriting and branding skills with an analytical approach to help sustainable brands flourish.
Kathi: Creative Treasury & Social Media Expert
(Wuppertal, Germany)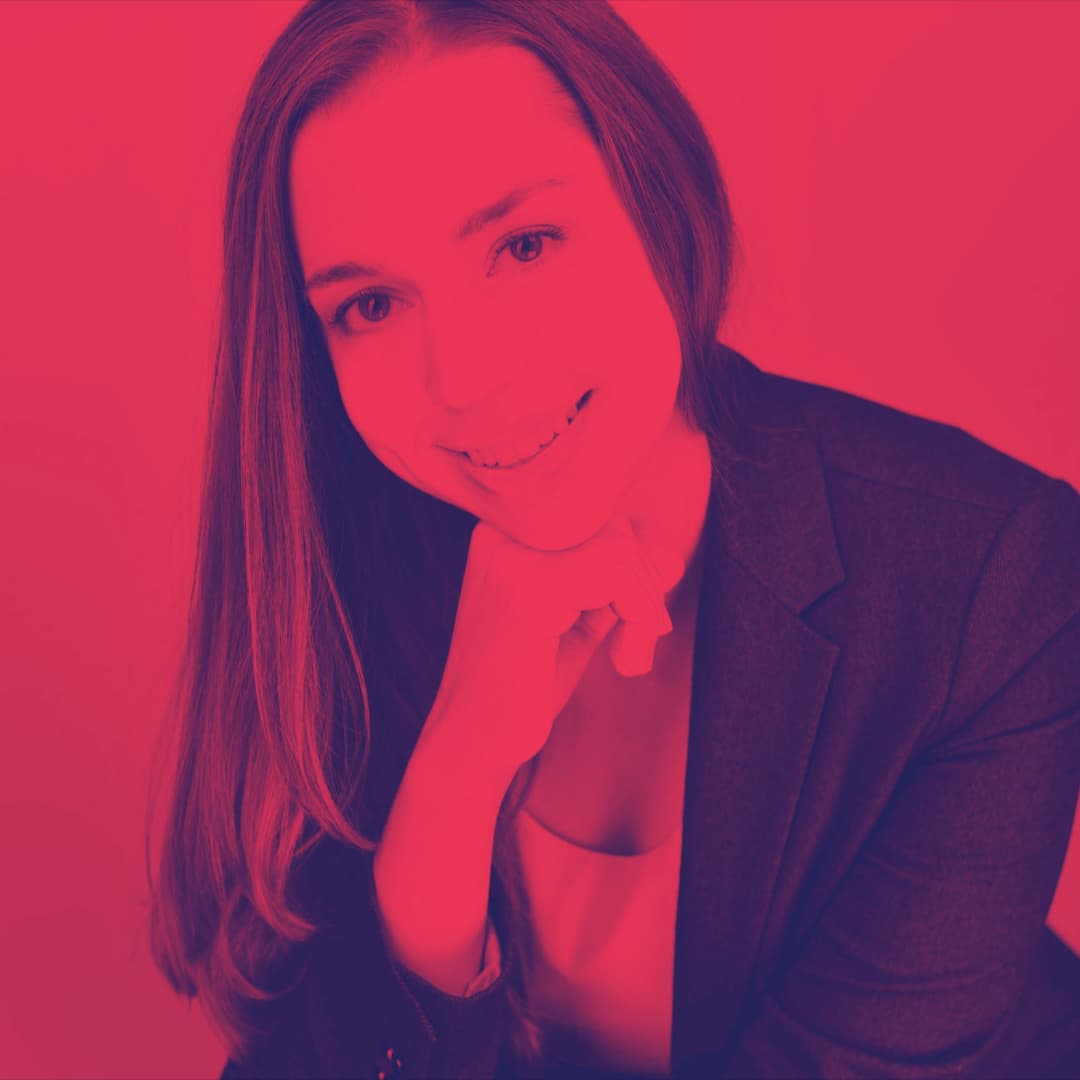 Social Media +++++

100%

100%

Canva design +++++

100%

100%

Recognising customer needs +++++

98%

98%

Orientation –

25%

25%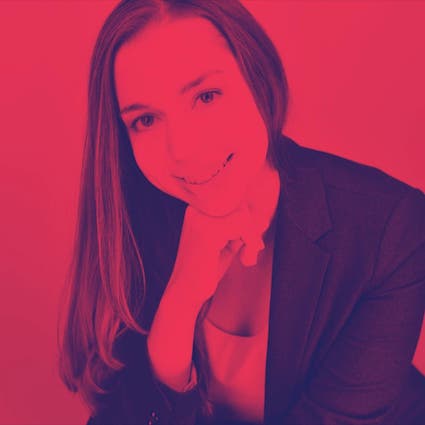 My grandma probably always saw this coming:
I'm a freelance social media and marketing assistant.
German <-> English localisation
English social media copy
No pen, no piece of paper and no scrap of fabric was safe from me. I made something out of everything. Probably at some point my grandparents no longer knew where to hang all the creative outpourings. Not only crafting and writing, but also singing is my gateway to the world.
What does that have to do with my current job? Lots, if you ask me. Only the media have changed a bit.
Therefore, last year I poured my overflowing energy into a further training course to become a social media manager at the German Chamber of Industry and Commerce…
… and fulfilled my dream of independently supporting people whose values match mine.
I love giving people a voice and making a difference together.
I want to know what fascinates you, what you are passionate about, and I want to support you in getting your message to the people.
I believe that everyone has special talents that the world should know about.
Let's bring your very special talent and my creativity together!
Laura: Green SEO Consultant & Copywriter
(Living the #VanLife, currently: Spain)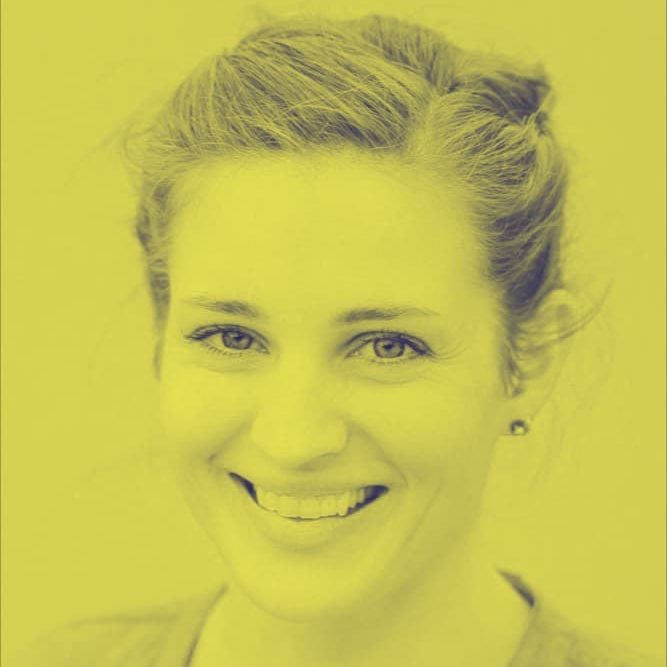 Finding the best keywords +++++

100%

100%

Writing vivid and emotional copy +++++

100%

100%

Making great cakes +++++

98%

98%

Patience –

25%

25%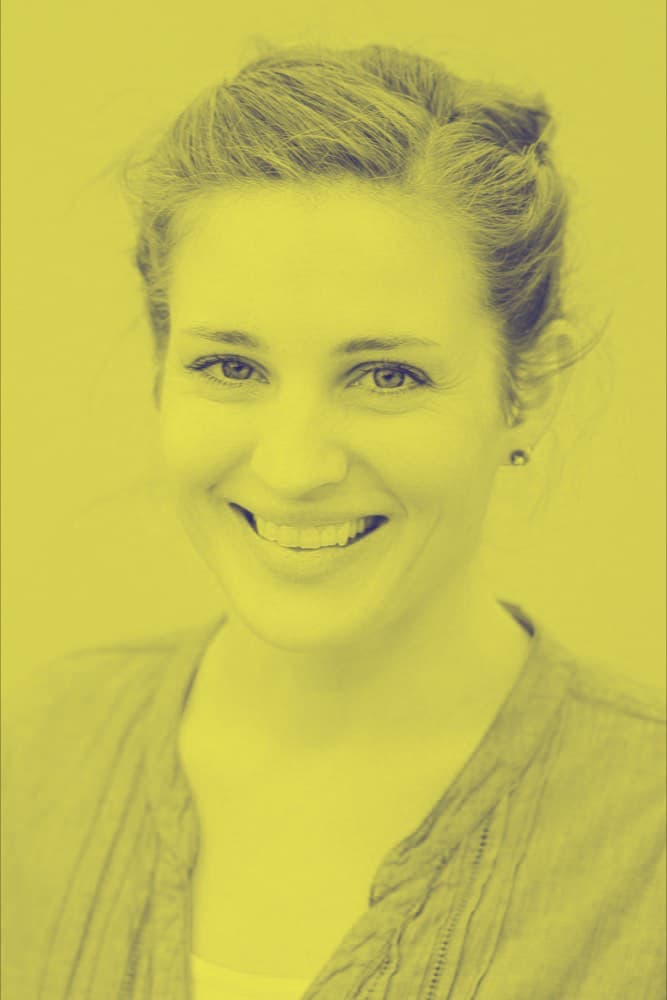 As an imperfect changemaker, I've been on the road for several years — including unpackaged organic vegetables, a mobile home instead of four walls and a preference for all things pre-loved.
German SEO strategy development
German SEO copywriting & content
German copy coaching & workshops
Professionally, my résumé looks colourful, but less green.
It includes training in insurance (yawn!), a bachelor's degree in communications and a master's degree that allowed me to see as much of the world as possible (best decision ever!).
When I had my first child in 2018, not only did my sleep schedule change, but also my perspective:
How do I want to spend my time?
How much do I actually want to work, and when and from where?
The answer was logical:
I took dozens of advanced training courses, gathered all my courage and started my own business as a green SEO copywriter.
Hello, values and freedom!
Adiós, 9 to 5 and that queasy gut feeling!
So today I align my work with my life, not the other way around.
By supporting people and teams that make this world a little better with SEO copy that helps them get found.
Sabrina: Purpose-driven brand language expert
(Munich, Germany)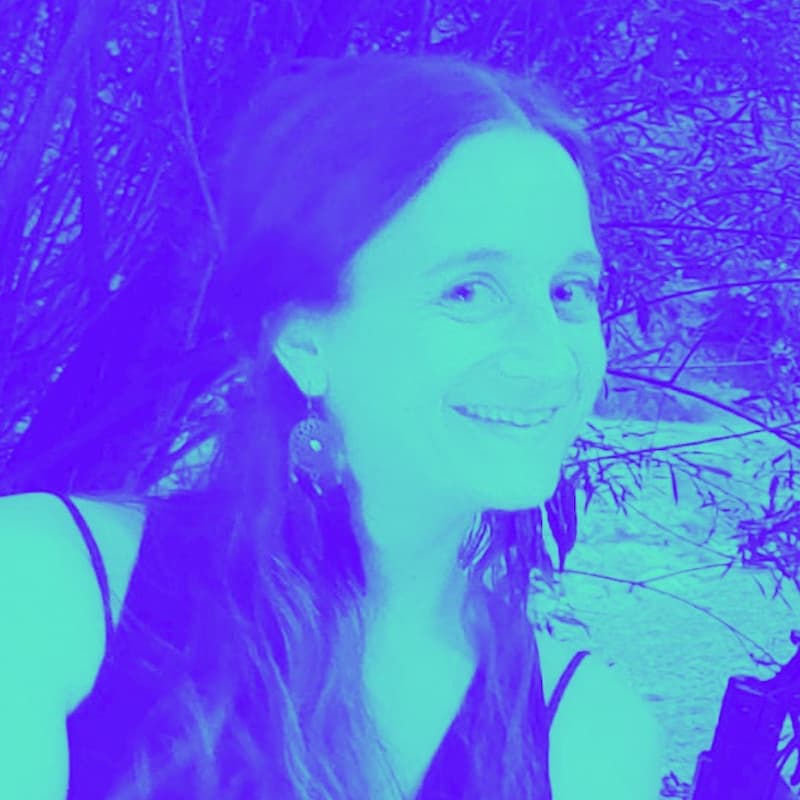 Copywriting +++++

100%

100%

Tone of Voice +++++

100%

100%

Conceptual thinking ++++

98%

98%

Relaxed driving –

30%

30%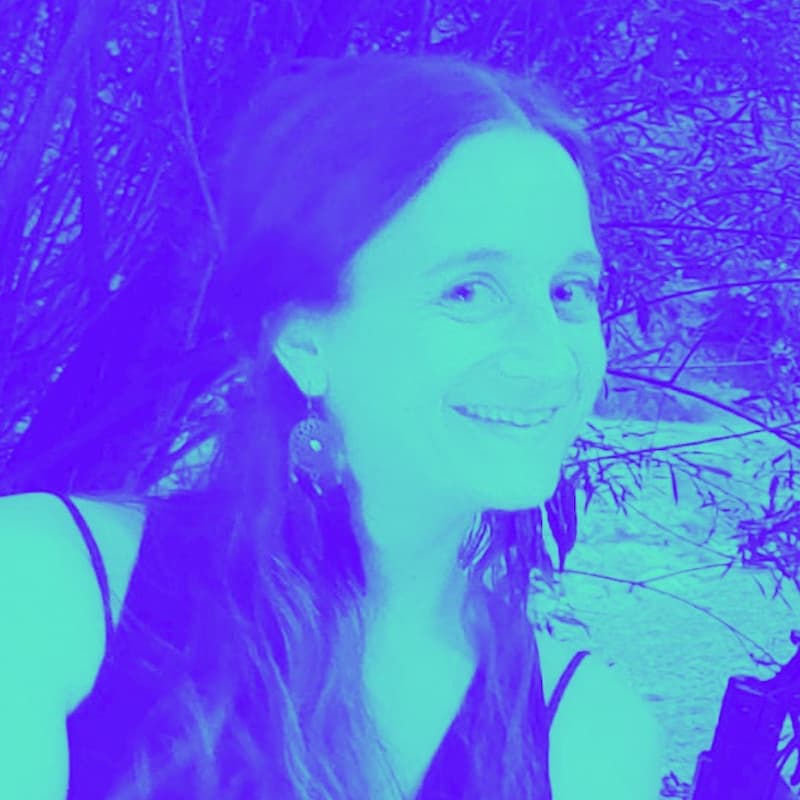 English > German transcreation & localisation
I stand for concepts, ideas and texts that convince, touch and amuse the reader – regardless of whether I'm talking about heat pumps or raisin rolls.
And I won't get started until I really understand the point. That's why my listening skills are almost as essential as my writing skills.
We're 100% focused on your people & your purpose
Our work is firmly grounded in customer research, analytics, linguistics & psychology… and that all-important bit of poetry.
Study the challenge & strategise
Create a first draft
Reality check with real people
Adapt the first draft
Two rounds of light edits
Circulate the copy (or training)
Harvest successes & lessons learned
Fixed-price projects help you budget: no ugly surprises at the start of the month.
Easy on the admin: book services directly on the website, accept quotes online and use (almost) any payment method you like.
We promise you'll leave every project with a clearer idea of what goes into great copy and training. Which means you'll not only write better yourself — you'll also be a better judge of quality when hiring a writer or trainer in future.