Looking for facts to help you get more customer reviews?
We've assembled a list of 10 helpful facts for you from customer care experts such as Help Scout, Moz, Groove and CustomerSure.
The 10 tips that made our list include what to do when you get a bad review, how to get more customer reviews, and how to use other companies' reviews to build your own.
Tell people what's in it for them
Want more customer reviews? People are more likely to share their thoughts if you tell them how their feedback will be used or how it will improve their future customer experience.
This should be particularly easy for organisations working towards the 2030 goals. For example, Sabine had this great example from Dutch startup Farmed Today in her inbox: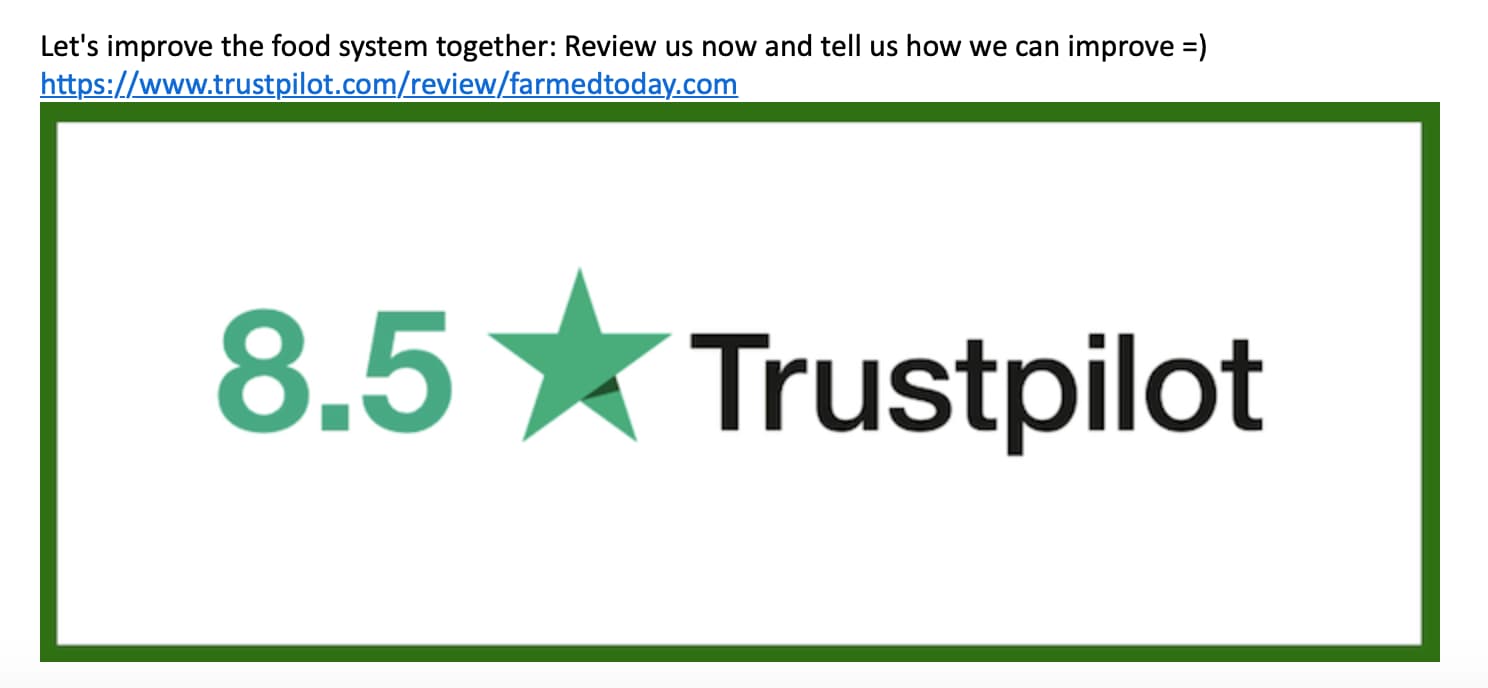 Let's improve the food system together: Review us now and tell us how we can improve =)
They cleverly link their work to improve the food system with their work to improve their business practices — and how the customer can boost both at the same time. Feel-good factor guaranteed!
— Which leads us to our next tip:
Allow people to feel good after leaving a review
Emotions are the most powerful driver of writing reviews. For example, a review writer might feel the simple satisfaction of voicing their beliefs and values in a public forum. Reinforce those feelings by setting up an automated thank-you message that validates their need to express themselves, serving the community of customers and sharing their views.
You could display that message on screen, or send a quick automated thank-you email. Fair fashion hub mi apparel does this nicely: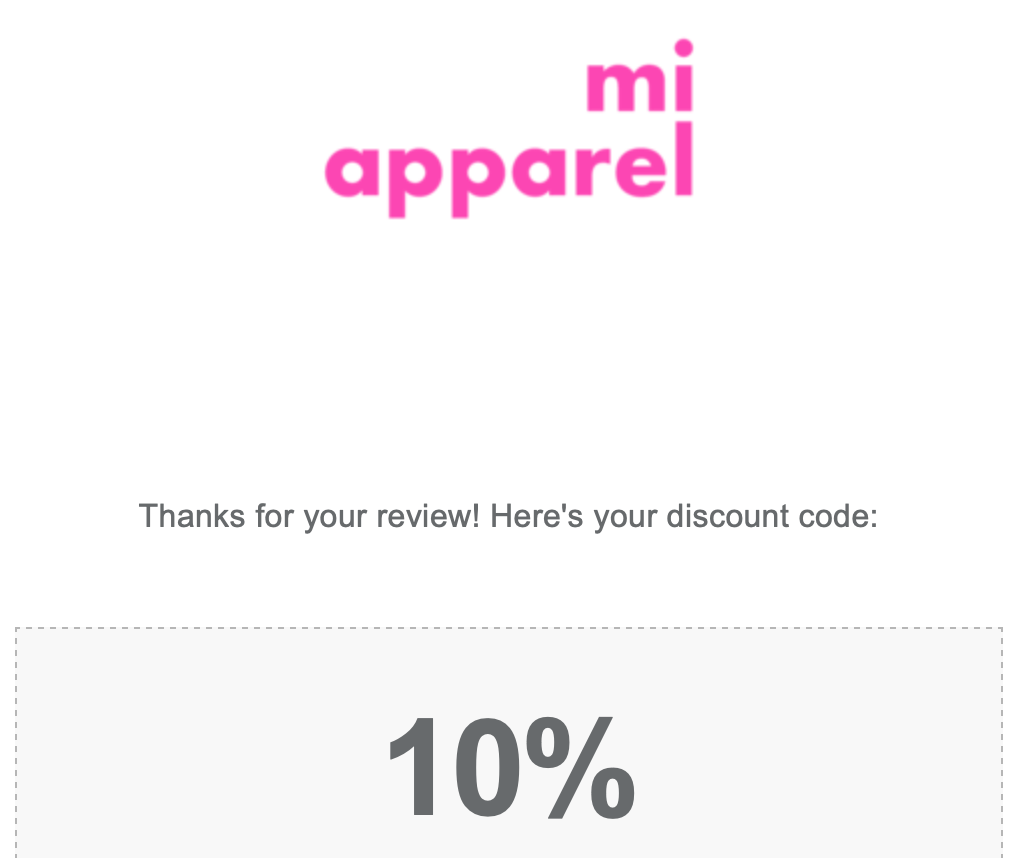 While it's not absolutely necessary to incentivise reviews with a discount code, it's a strong way of building loyalty.
Allow others to give feedback on the review
Yes, sentiment analysis technology is much better at identifying reviews that influence sales. But this tip is not about finding the most and least helpful reviews: it's about getting more people to leave a review in the first place.
As a 2013 study in the European Journal of Marketing shows, review ratings, comments on a review and helpful votes make it more likely that customers will leave a review. 
Moreover, an empirical study by Wenqi Shen, Yu Jeffrey Hu, and Jackie Rees confirms that online reviewers crave attention and even strategically put their reviews together so as to compete for this scarce resource.
Book retailer Wordery uses a simple 'thumbs up', 'thumbs down' system to let people rate reviews according to helpfulness: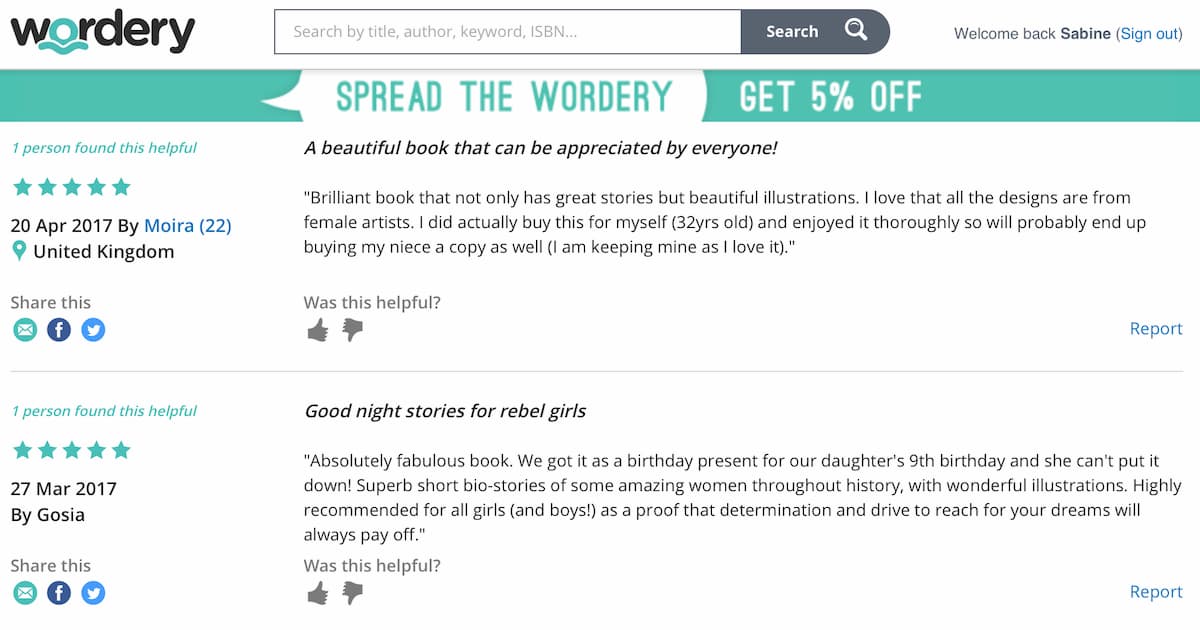 Respond to positive reviews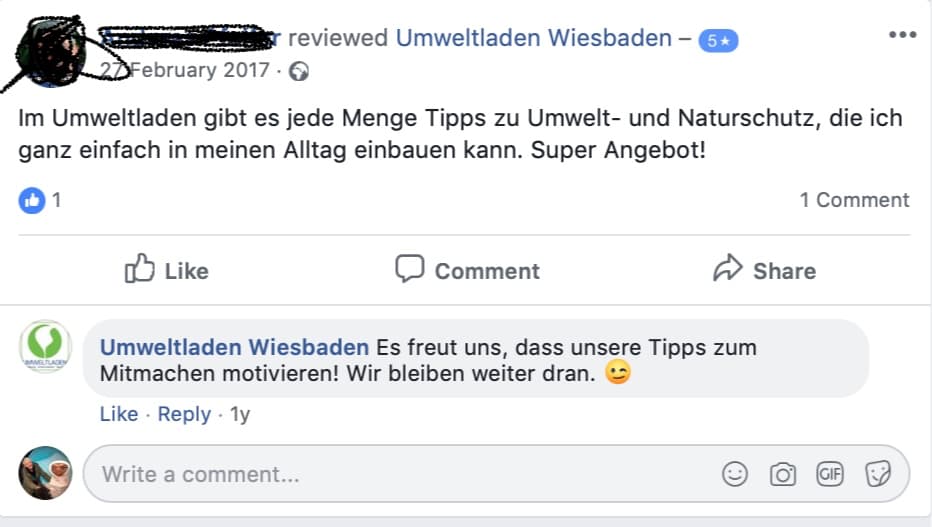 Facebook review saying:
Im Umweltladen gibt es jede Menge Tipps zu Umwelt- und Naturschutz, die ich ganz einfach in meinen Alltag einbauen kann. Super Angebot!
(English translation:
Umweltladen has a lot of tips on protecting nature and the environment which I can include in my everyday life really easily. Great offer!)
Comment from the Umweltladen team:
Es freut uns, dass unsere Tipps zum Mitmachen motivieren! Wir bleiben weiter dran.
English translation:
We're happy to hear that our tips inspire you to join in! We'll continue to work on them. 
Luks Linen also have a friendly, short response for positive reviews.
(We're pleased they're pleased Gill's pleased!)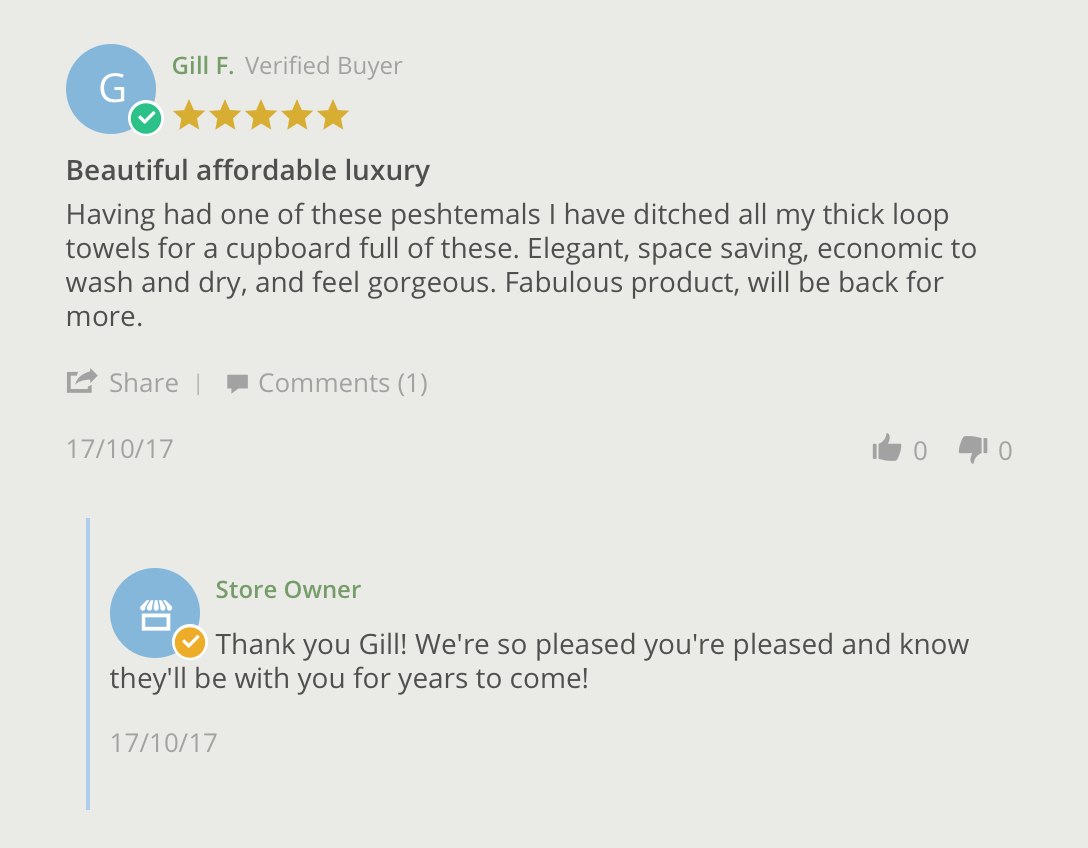 Gill's review:
Beautiful affordable luxury

Having had one of these peshtemals I have ditched all my thick loop towels for a cupboard full of these. Elegant, space saving, economic to wash and dry, and feel gorgeous. Fabulous product, will be back for more.
Response from store owner:
Thank you Gill! We're so pleased you're pleased and know they'll be with you for years to come!
Bad review? Your reply can fix the broken relationship
A 2014 study published in Cornell Hospitality Quarterly recommends that you should treat a negative review just like any other customer complaint.
And it comes at no surprise that folks who leave a bad review hope that someone will
read it
empathise with them
demonstrate an accurate understanding of the complaint and
fix their bad experience — turning them into a happy customer after all.
Victor Ho further identified that the simple act of thanking the customer for their feedback can make a big difference.
Sometimes, your relationship might even benefit more than if the bad review had never happened — a phenomenon also known as the "service recovery paradox".
Groove have collected some very helpful tips for reflecting on bad reviews and writing a stellar response.
Patagonia is famous for their excellent customer care and outstanding approach to repairs. Note how Michelle starts off by thanking the customer and adds some rich detail to demonstrate her empathy and understanding of the complaint.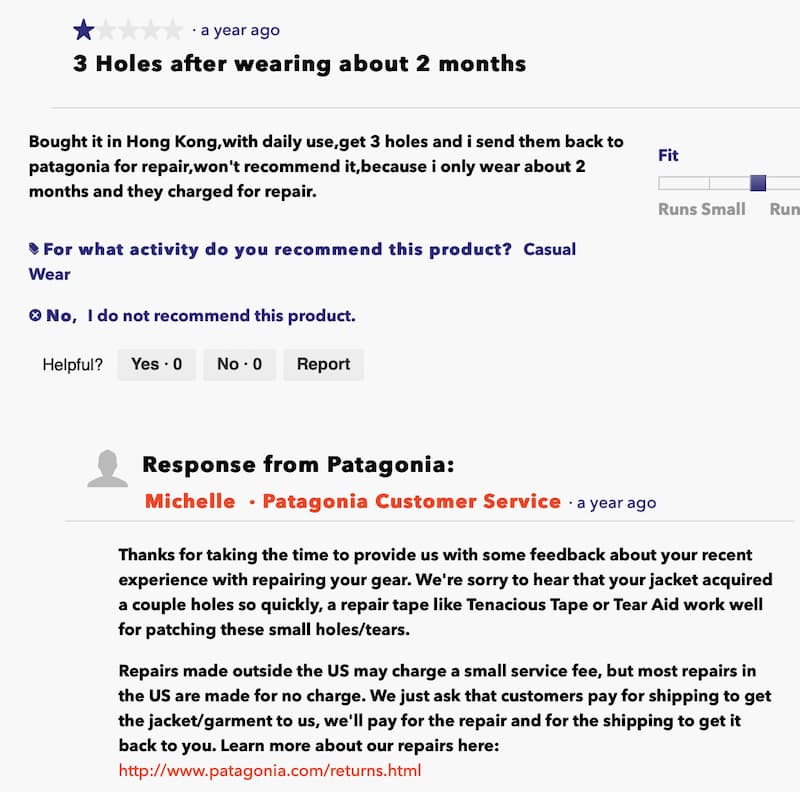 Negative review from a customer:
3 Holes after wearing about 2 months

Bought it in Hong Kong, with daily use, get 3 holes and I send them back to Patagonia for repair, won't recommend it, because I only wear about 2 months and they charged for repair.
Response from Patagionia (Michelle | Patagonia Customer Service):
Thanks for taking the time to provide us with some feedback about your recent experience with repairing your gear. We're sorry to hear that your jacket acquired a couple holes so quickly, a repair tape like Tenacious Tape or Tear Aid work well for patching these small holes/tears.

Repairs made outside the US may charge a small service fee, but most repairs in the US are made for no charge. We just ask that customers pay for shipping to get the jacket/garment to us, we'll pay for the repair and for the shjipping to get it back to you. Learn more about our repairs here: (link)
Let them know it won't happen again
Writers of bad reviews don't just use that opportunity to vent: they also hope to spare others the same disappointing experience. And with CustomerSure reporting an average negative review rate of 11%, businesses have plenty of dissatisfying customer experiences to fix.
A 2016 study by Lewicki et al. found that a 'declaration of repentance' — in other words, the reassurance that there was a one-off failure or glitch — was the fourth most important ingredient in successful apologies.
Here's a bad example for a change: this is a response to a lengthy one-star review on TrustPilot. Even if the customer had completely gotten the wrong end of the stick, this response is likely to make matters worse rather than better.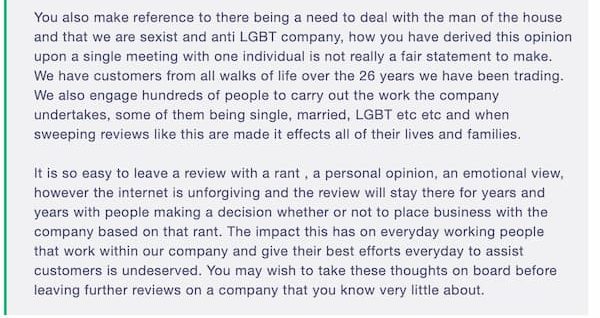 Reply from the company (abridged)
It is so easy to leave a review with a rant, a personal opinion, an emotional view, however the internet is unforgiving and the review will stay there for years and years with people making a decision whether or not to place business with the company based on that rant. The impact this has on everyday working people that work within our company and give their best efforts everyday to assist customers is undeserved. You may wish to take these thoughts on board before leaving further reviews on a company that you know very little about.
Always try your best: others are watching
Some might want to punish the company for a disappointing experience. At that point, the relationship is often already broken beyond repair. But it's worth trying anyways, because other people are watching. No doubt: some people reading the example response pictured above decided to go with a competitor.
Researchers Beverley A.Sparks, Kevin Kam Fung So and Graham L.Bradley found that prospective customers do pay attention to hotels' responses to negative reviews online. According to their study, three behaviours matter most:
Responding at all;
Writing in a "human voice style"; and
Responding swiftly.
Here's another negative example taken from Trustpilot — demonstrating that customers really do pay attention to the way reviews are handled. Getting in touch to resolve things behind the scenes is not enough: some public form of closure is essential, so prospective customers can see that you care.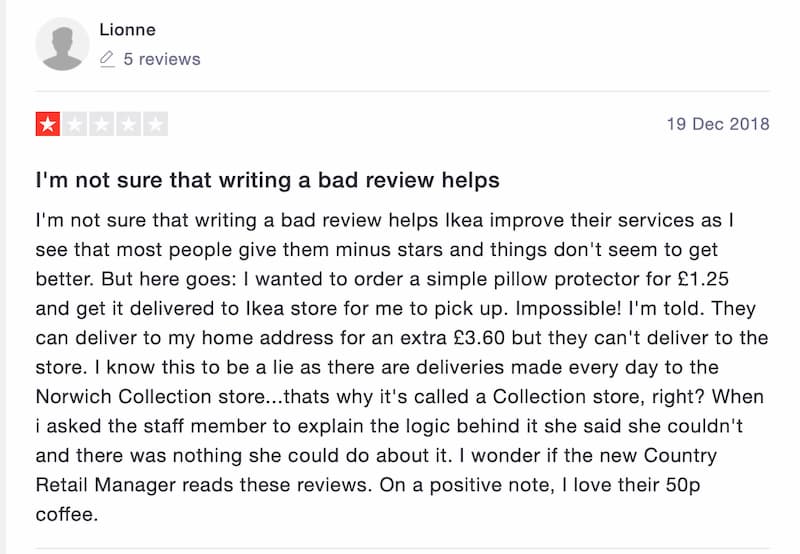 Lionne's review:
I'm not sure that writing a bad review helps

I'm not sure that writing a bad review helps [the company] improve their services as I see that most people give them minus stars and things don't seem to get better. But here goes: I wanted to order a simple pillow protector for £1.25 and get it delivered to the store for me to pick up. Impossible! I'm told. They can deliver to my home address for an extra £3.60 but they can't deliver to the store. I know this to be a lie as there are deliveries made every day to the Norwich Collection store…thats why it's called a Collection store, right? When I asked the staff member to explain the logic behind it she said she couldn't and there was nothing she could do about it. I wonder if the new Country Retail Manager reads these reviews. On a positive note, I love their 50p coffee.
Fake reviews come from bogus accounts or, more generally, people who've never tried the product or service.
They've have become a sufficiently big problem that it's sparked the birth of dedicated prevention apps and browser extensions.
Amazon is now well-known as one of the sites with the most fake reviews. The BBC uncovered the open trade of fake 5-star reviews in 2018, and more recently ABC Radio reported that businesses suffer from fake negative reviews bought by their competitors.
So how can you make sure your business benefits from the power of real reviews and stays safe from the havoc wreaked by fake ones?
Invest into a review management system that ties all reviews to a purchase via verified proof of payment. Services such as Chlu, Feefo, Yotpo and Reevoo all promise to collect only reviews from real customers.
Need more info? This article by inflow gives a great overview of what you should look out for when choosing your customer review platform.

Screenshot of the Chlu homepage, with the main headline saying "The problem: Search for Products and Services is Broken — Finding businesses, products and services that we can truly trust is a complicated, fragmented and unsolved problem.
Make reviews someone's job
Reading all the reviews and responding to each one can be time-consuming. Recording the points raised and integrating them into your Continuous Improvement efforts even more so.
That's why it makes perfect sense to assign the responsibility for reviews to a specific person or a small team in your company.
ReviewTrackers recommend that this should be a branch or location manager, someone in your customer care team, in marketing or social media. Reviews touch on all of these aspects, and so collaboration skills with people in other functional areas will be the key to success.
Customer reviews can't replace a good customer feedback system. But you can respond to each one and make your customer care shine.
Read the reviews of your competitors
Of all the tips we've presented, this is the one you should definitely follow, even if you haven't got a single customer review for your own business yet.
A paper presented at The International Conference on Advanced Wireless, Information, and Communication Technologies (AWICT 2015) suggests review mining as a business risk management tool.
The paper also mentions reviews as an information source for questions like these — which is exactly why we like to dive into reviews for when we start a new copywriting project:
"(i) how will our new product compare to our competitors' products? or

(ii) which key factors influence customers' decisions to buy from our competitors or us?

Or

(iii) which competitive factors affect our growth strategy?"
In short, if you 'mine' reviews left for your competitors, you'll find out about some of what's bothering people — and do it better.
>> Looking for even more advice about getting to know your customers better?
Download our free ebook and find out what your customers REALLY think.