Words that Make People Think, Feel & Act
Your mission is to change the world — so why should your brand be bland?
Whether you've founded a startup or you're leading your company towards the Sustainable Development Goals:
You're on a mission to change your grey old industry for the better. 
Hard graft and hustle have propelled you to a certain level of success.
But you know you need even more critical mass… 
You want to go BIG. 
And you feel kinda stuck in your own head:
After hours polishing our value proposition… will it make people snore or adore?
How can I use stickier words to convince more folks — without manipulating people to buy?
How can we make our copy flow better, so readers will enjoy it from start to finish?
If questions like these feel like that new gap in your mouth after a visit to the dentist
(= you just HAVE to return to them over and over again)…
…then it's time to level up, move past the DIY approach and work with a pro copywriter.
Because the closer you are to your own brand or specialist area, the harder it is to find the right words on your own — and feel confident about them.
"A big thank you for all the good and hard work, always well structured and delivered on time, much appreciated."
— Benoit Gagnon, CEO & Co-founder, Miuros
We Write Your Copy from "Scratch"
For best results, all our copywriting projects follow a 7-step process: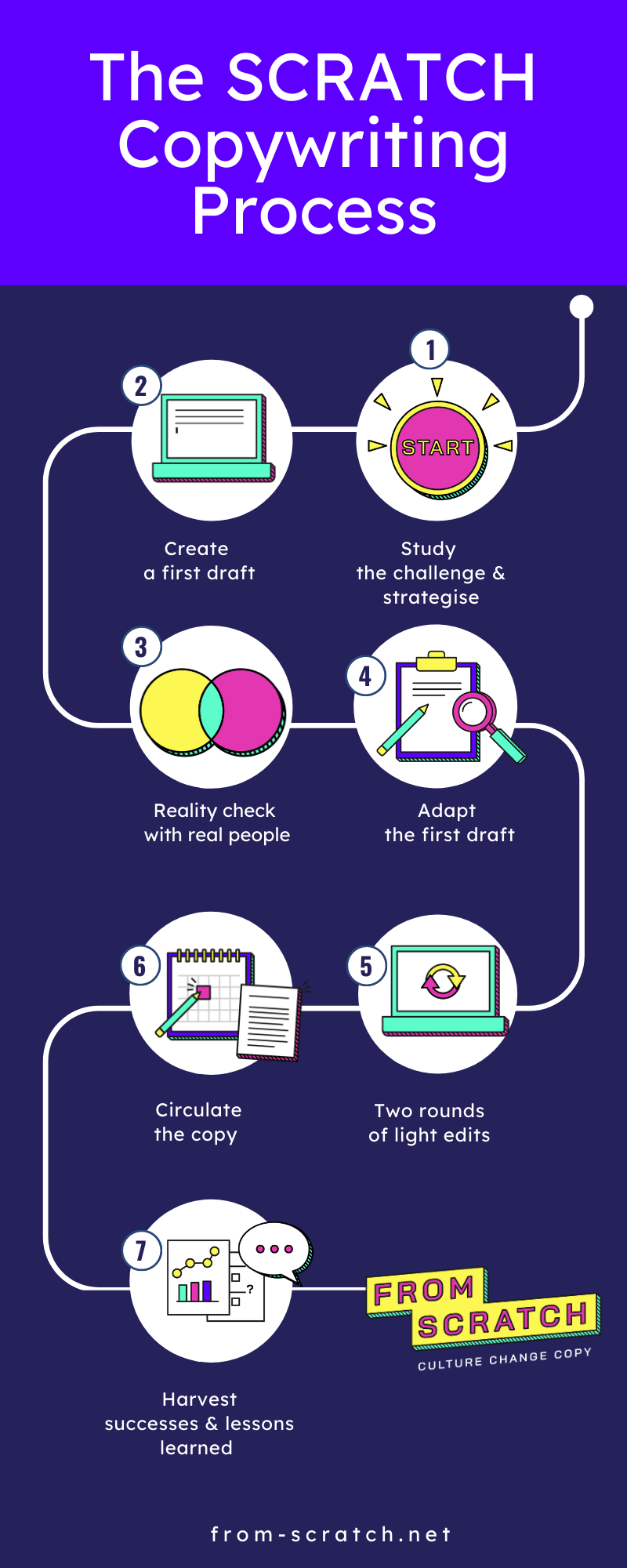 1. Study the challenge & strategise
We'll learn as much as we can about you, your product or service, and most importantly: your ideal customers.
This means digging into your Facebook page, newsletter provider/CRM, Google Analytics, any customer surveys, etc. 
We'll also need to experience your product or service ourselves, in a realistic setting — as if we were your customers.
The aim is to deeply understand your customers' needs, pain points, feelings and desires — so you can come in to the rescue.
2. Create the foundation & first drafts
What unique value do you have to offer to the world?
What should your brand should talk and write about, to whom, where, and why?
Getting your value proposition & messaging strategy right will set all your writing and marketing on a much stronger foundation. It will function as a brand platform that connects all the different things you do, all your offers and all the customer personas you seek to attract.
Once defined, your value proposition can function in various places such as homepage headlines, tag lines/slogans, elevator pitches, etc.
With the value prop in place, we can build a high-level content strategy and one-page tone of voice guide. They will free up more of your time, help you outsource more writing and marketing tasks, and make sure you're always on point.
Then it's time for writing & wireframing your website, landing pages and/or email sequences.
3. Reality check — with real people
Even before you'll ever see them, we test our ideas to make sure they'll work. Depending on the project, we run usability tests, 5-second-tests or guerilla testing sessions. The feedback can be documented in as much detail as you'd like.
4. Adapt the first draft
Usually, the reality check highlights bits of copy that aren't quite clear enough yet… or big ideas that aren't as compelling as we'd hoped.
So we go back into our copy and apply the lessons learned.
5. Two rounds of light edits
We present each of our first drafts to you on a video call. Even if you feel this is overkill and slows us down, we should never skip this step. In fact, our experience proves that these calls speed up the process considerably!
Please focus your feedback on any inaccuracies, inconsistencies across messages, branding and legal.
Up to two rounds of light edits will follow based on your feedback.
6. Circulate the copy
Depending on the project and your setup, we'll test and validate your new copy again before it goes live: for example, through A/B testing. This is so we can remove any guesswork and make sure the copy performs as well as possible.
During this stage, we'll closely collaborate with your designers, developers and analytics team.
Or if you prefer, we can bring in our own tried-and-tested network to build the web pages and email campaigns for you.
7. Harvest successes & lessons learned
We always work with one eye on the data. Optimising copy over time and iterating on digital messaging is simply how we work.
When a meaningful stage of the project is complete, we like to check in and evaluate our results so we can all learn for our next steps.
This makes most sense if we work together on an ongoing basis, but can also give you a sense of direction for your next projects.
"To be honest, I believe you are very talented in what you do.
Through your skills you have the ability to bring about significant change for an ethical and sustainable future and because of that how important it is to use your skills.
You have a really astute understanding of conscious consumers, how to speak to & engage them. Your ability to communicate clearly the importance of uniting this community can create real impact.
Together, we can tackle global issues and make conscious living and consuming the norm."
— Aurora Mandala Morganite, Co-founder, Atlist
Where Psychology, Purpose & Poetry Meet 
There's no black magic involved, and you can follow our thought process from start to finish.
We're proud to be white hat writers: no need to apply cheap tricks and manipulation if you really 'get' who you're writing for. 
Sales pages
Landing pages
Automated messages and templates: bills, text messages, chat bots and more
Drip campaigns / SaaS on boarding email sequences / newsletters
About pages
In-app copy
Guides and templates for customer service teams: the words and phrases that help build relationships with customers and express your brand — backed up by psychology and linguistics.
FAQs
We'll Never Get People to Change their Ways if They're too Bored to Care
Some people say personal chemistry doesn't matter. Don't listen to them!
Book a quick, no-strings-attached call to find out if we're a good fit.