Learn how we wrote & designed a high-converting landing page that achieved a whopping 60% conversion rate for an award-winning social entrepreneur & mentor.
The newsletter signup page Sabine wrote and designed for multi award-winning social entrepreneur and mentor Nyasha Gwatidzo achieved a whopping 60% conversion rate. That's 12x the conversion rate of the average landing page.
The goal was not to get as many sign-ups as possible — but instead, to ensure a perfect fit between Nyasha and her list. With the right subscribers, the list would be far more engaged and more receptive to the idea of booking Nyasha for mentoring.
While a conversion rate of 60% is certainly not a typical result, the steps Sabine took to create this high-converting landing page are still a great guide to writing websites that convert well.
REALLY Getting to Know the Ideal Subscriber
A lot of low-converting websites and landing pages are written quickly, in a scattergun approach: the same page is supposed to work for "everybody".
Many entrepreneurs also invite all sorts of people to subscribe to their newsletter… and worry about the content of those emails later.
And we get it — we're all busy and want to get our message out there, fast.
But that approach risks leaving website visitors feeling lukewarm. One-size-fits-all doesn't exist in copywriting.
All our writing follows the Rule of One (not the Sith doctrine — the copywriting rule!). We write each piece for one distinct type of reader, exploring one big idea, making one offer.
With this in mind, Sabine decided to start with a thorough understanding of the value Nyasha could add through her emails — and her ideal audience.
Creating the Launch Pad
The Launch Pad is essentially a detailed briefing document that contains every bit of information about our client, their ideal audience and the content they want to share.
For Nyasha's landing page, Sabine compiled it from a range of sources including interviews with former mentees, website and MailChimp analytics, conversations with Nyasha and existing content (Facebook Lives, blog posts and LinkedIn activity). This allowed her to take a deep dive into who we were going to attract: not just their demographics (global female social entrepreneurs who've been in business for at least 2 years) but also — and most importantly — their psychographics.
From that research, we knew that her ideal audience loved Oprah Winfrey, tried to live mindfully and worked extremely hard to make money for their mission… often while making big personal sacrifices.
Plotting the newsletter
Nyasha Gwatidzo mentors social entrepreneurs.
This means she operates in an increasingly crowded market, which is dominated by coaches and mentors offering their 'blueprints', 'templates' and 'proven 5-step plans'.
In researching her audience, Sabine found a perfect match between their disillusionment with people selling ways to 'make money on autopilot' and Nyasha's unique approach. She doesn't teach a generic course: instead, she engages directly with her mentees in order to help them discover the strategies that best suit them.
Her newsletter was therefore going to show off this special way of working.
We were going to combine mindset work (what gets in the way of following your calling?) with Nyasha's inspirational story (allowing her to generate a cumulative $130 million turnover and over $25 million EBIT since 1987) and practical, easy-to-apply tips to make every day feel that little bit lighter.
With this background, it was much easier to write a landing page that resonated with the right people, and gave them enough details to intrigue them.
Writing the landing page
Often, clients choose to work on the web design first, sometimes even relying on proven templates that later guide the flow of the text.
We prefer a copy-first approach: once we know the conversation that will take place on the page, a skilled web designer or developer can really work their magic to enhance that experience for the user. It's rarely useful to squeeze the messaging into a pre-defined container.
Identifying people's stage of awareness
Matching visitors' stages of awareness is the most important thing to get right on landing pages. Will they be completely unaware of the things a mentor could help them with? Will they be pain aware — knowing they have a problem, but unsure how to solve it? Or will they be aware of the powers of mentorship?
Nyasha was going to use LinkedIn articles to invite people to the landing page, so we knew they'd be aware of who she is and what kinds of problems she can help with. Sabine knew that she'd have to write just enough to explain Nyasha's unique approach.
Writing the headline
The headline had to match people's expectations based on what they had just read about Nyasha. It also had to get their attention and draw them in:
Following the principle of 'tell them what you're gonna tell them', this headline gives just enough information to tell people they've come to the right place — while leaving all the juicy bits open… intriguing the reader enough to start reading the rest of the page.
Writing the body of the page
First of all, Sabine wanted to show that Nyasha understands the pain of her reader. She used the first two paragraphs to draw attention to the dichotomy between the high dreams these hard-working social entrepreneurs set out with, and their current reality.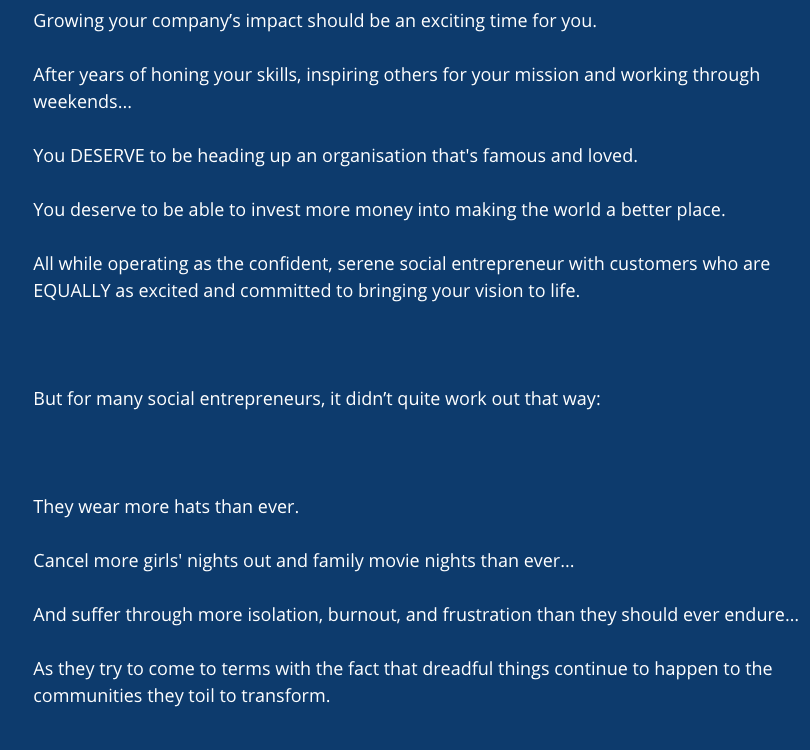 Growing your company's impact should be an exciting time for you. After years of honing your skills, inspiring others for your mission and working through weekends… You DESERVE to be heading up an organisation that's famous and loved. You deserve to be able to invest more money into making the world a better place. All while operating as the confident, serene social entrepreneur with customers who are EQUALLY as excited and committed to bringing your vision to life. But for many social entrepreneurs, it didn't quite work out that way: They wear more hats than ever. Cancel more girls' nights out and family movie nights than ever… And suffer through more isolation, burnout, and frustration than they should ever endure… As they try to come to terms with the fact that dreadful things continue to happen to the communities they toil to transform.
In her interviews, Sabine had learned about some of their specific pain points and the language they used to describe those. Now was the time to mirror that language and use those specifics to show how close Nyasha is to their reality.
This part culminated in the revelation that "The only thing you'll ever learn from other people's 'blueprints' is what worked for them (not you)" — and an explanation of how Nyasha's approach is different.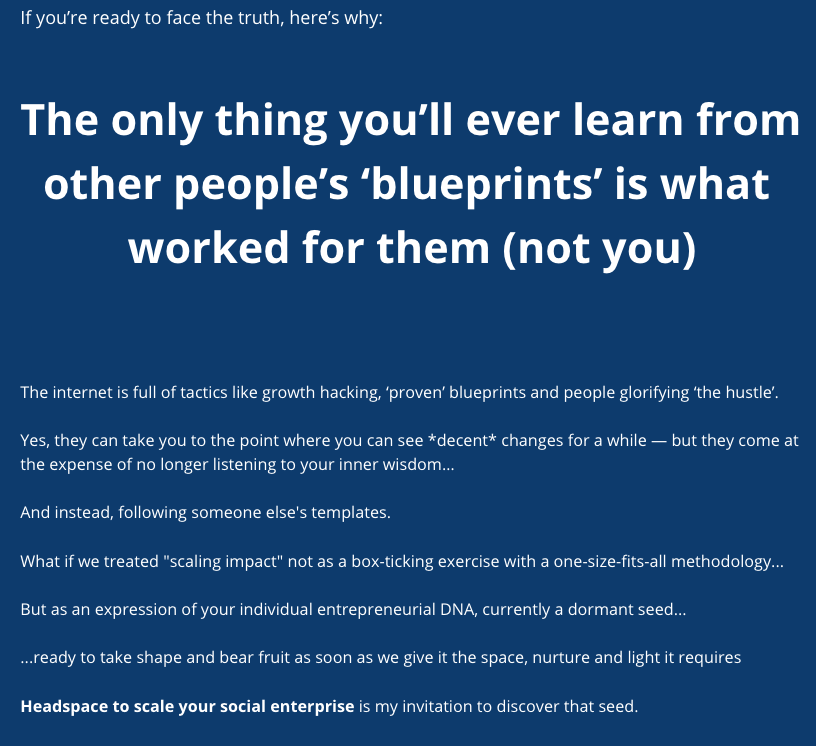 If you're ready to face the truth, here's why:

The only thing you'll ever learn from other people's 'blueprints' is what worked for them (not you)

The internet is full of tactics like growth hacking, 'proven' blueprints and people glorifying 'the hustle'.
Yes, they can take you to the point where you can see *decent* changes for a while — but they come at the expense of no longer listening to your inner wisdom…
And instead, following someone else's templates.
What if we treated "scaling impact" not as a box-ticking exercise with a one-size-fits-all methodology…
But as an expression of your individual entrepreneurial DNA, currently a dormant seed…
…ready to take shape and bear fruit as soon as we give it the space, nurture and light it requires?
Headspace to scale your social enterprise is my invitation to discover that seed.
Writing the call to action
Since GDPR had hit our inboxes earlier that year, we were all a bit less in love with the idea of getting yet another newsletter. So Sabine decided to call these emails a "journey of discovery" rather than a plain old newsletter — highlighting the benefit of engaging with these emails. This wording also conveys a sense of discovery which adds to the appeal of signing up.
Sabine then listed all the good stuff Nyasha's newsletter would cover: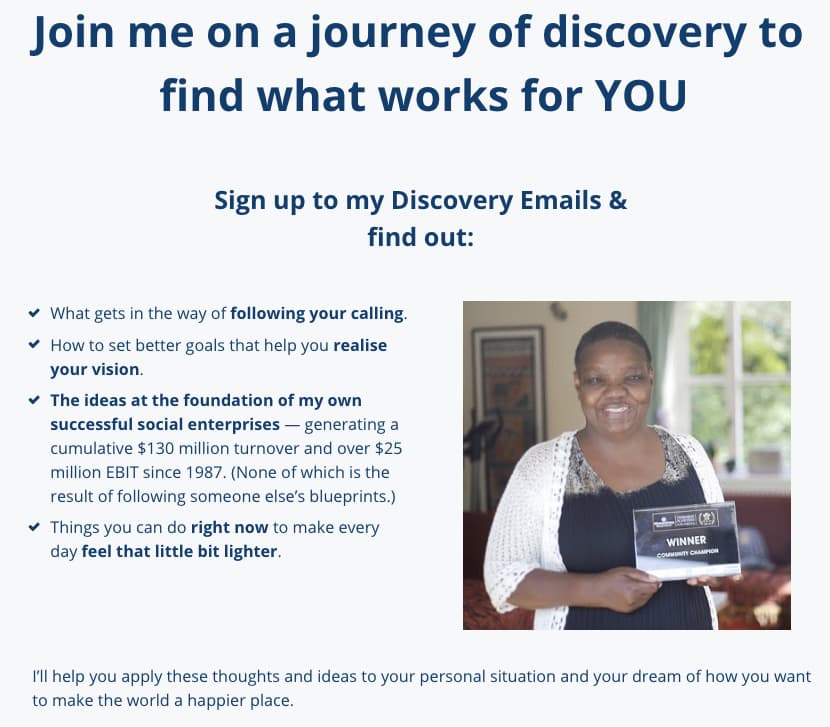 Join me on a journey of discovery to find what works for YOU

Sign up to my Discovery Emails & find out:
– What gets in the way of following your calling.
– How to set better goals that help you realise your vision.
– The ideas at the foundation of my own successful social enterprises — generating a cumulative $130 million turnover and over $25 million EBIT since 1987. (None of which is the result of following someone else's blueprints.)
– Things you can do right now to make every day feel that little bit lighter.

I'll help you apply these thoughts and ideas to your personal situation and your dream of how you want to make the world a happier place.
Just above the form itself, a headline and one line of copy explained clearly how to sign up and added information about how their personal details wold be processed. This allowed us to keep the sign-up form simple and sleek, as readers would have all the information they needed to make an informed decision about signing up: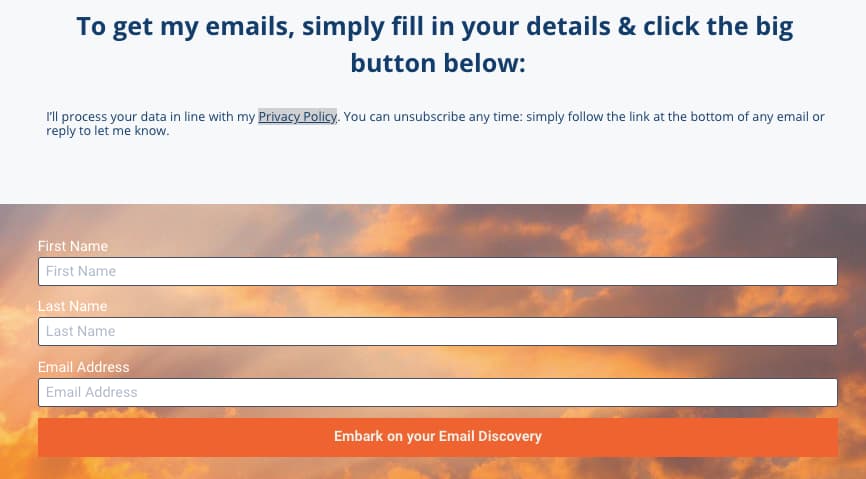 To get my emails, simply fill in your details & click the big button below:

I'll process your data in line with my Privacy Policy. You can unsubscribe any time: simply follow the link at the bottom of any email or reply to let me know.

First Name, Last Name, Email Address
CTA: Embark on your Email Discovery
Designing the landing page
As we had no expert web designer on the project team, Sabine built the page in Nyasha's Leadpages account. Using free stock photos, she drew attention and added a bit of emotional oomph to crucial parts of the page.
It was important to her that readers could scan the page quickly, scroll to the signup field and join the newsletter even if they didn't want to read all the detail.
One way Sabine achieved this was by placing Nyasha's portrait right next to the benefits of signing up. Photos slow visitors down; they're more likely to read text to the left of an image.