Hire Sabine to speak at your event
Conference Talks | Panel discussions | Workshops | Podcasts
Hey, I'm Sabine.
A workshop leader with 20 years' experience & former front woman in 2 bands, I deliver all the edutainment with none of the diva-style dressing room demands.
My favourite events involve some sort of dialogue: for example, video or audio interviews, Q&A with the audience and interactive workshops.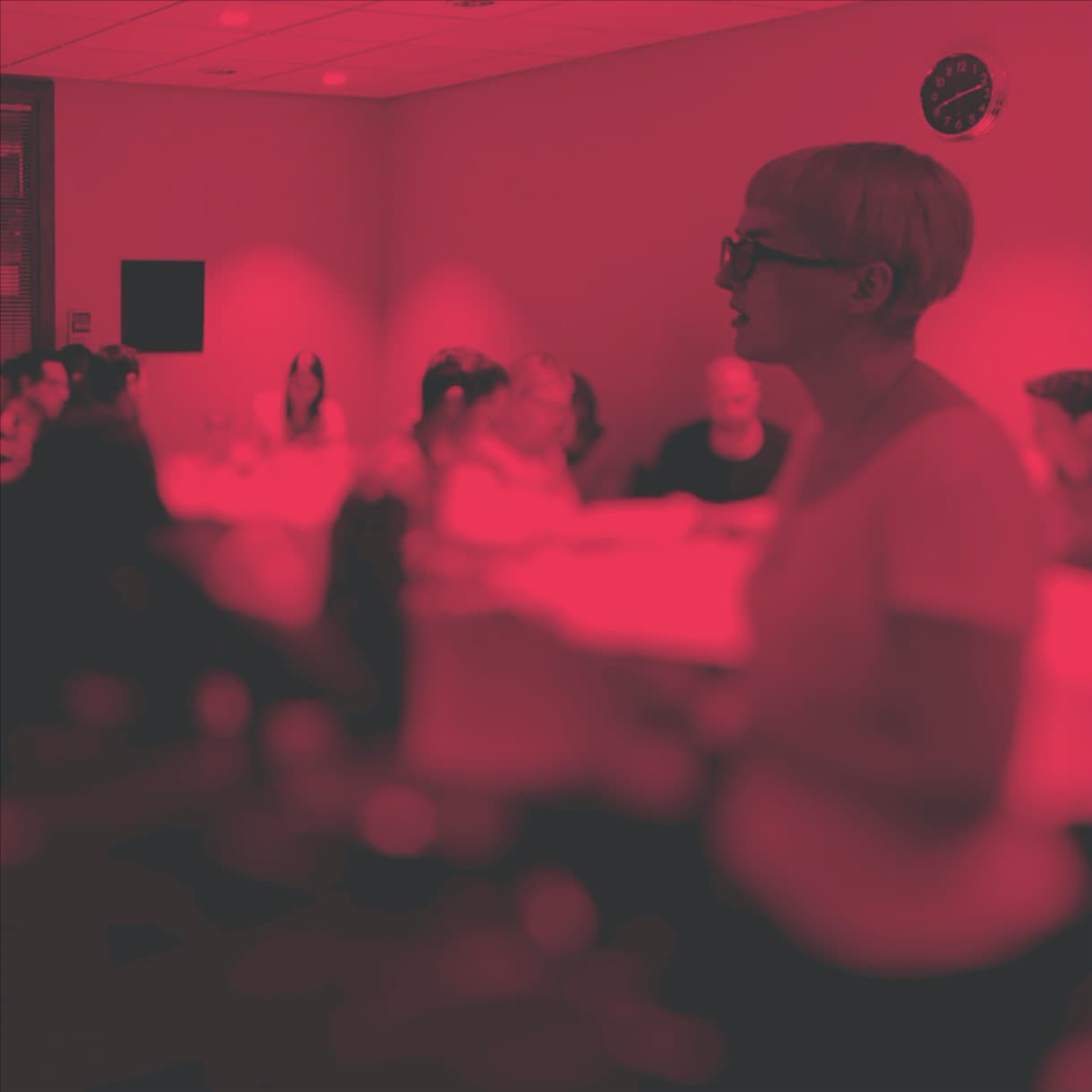 Popular topics include:
Written customer care conversations: emails & chat
Copywriting for culture change
Tone & voice for sustainable brands
Multicultural communication
Storytelling
I'm based in "upstate" Amsterdam, Netherlands. For the right kind of event, I'll travel all across Europe or pop up as a virtual guest on Zoom.
The European Copywriters' Conference 2020, Amsterdam
Come hear my talk titled, "Are we writing the wrongs? — Why we need to talk about ethics in copywriting".
Climate change. Gender gap. Exploitation of labour. Animal cruelty. Brexit.
Copy drives lots of the bad stuff that's happening in the world.
Time to put on our superhero capes & start using our copy superpowers as a force for good.
To quote Don Draper:
Are we just "gonna sit at our desks while the walls fall down around us — because we're the least important, most important thing there is"?
UXinsight Festival: Creativity in Research, 14–18 September 2020, Breda
I'm super chuffed to help foster a closer relationship between UX research and copy with my talk, Storytelling for UX Researchers – Getting Buy-in to Solving for Users.
Almost every good product depends heavily on UX research.
But that research is worth nothing if the findings don't make it into the final design.
The way we present our results affects the way stakeholders relate to them — and whether the finished experience "solves for users".
Where You've Heard Sabine Speak
Harness the power of words — Live Q&A
Sustainable Fashion Collective, 12 November 2019
In this live webinar and Q&A, sustainable fashion designers had the opportunity to get a deeper understanding of the copywriting secrets that help them resonate with their audience. The focus was on letting their values shine through while avoiding common pitfalls like greenwashing and preaching.
Whether it's about refreshing their marketing materials, welcoming new audiences with a compelling email campaign or nailing their product descriptions with on-message, accurate copy, this event was a one-off opportunity to learn from me!
Public Workshop: Storytelling for Inclusion
Impact Hub Amsterdam, October 2019
In this fun and engaging workshop, we explored the power of storytelling to reduce inequality and build community:
Why storytelling is the most inclusive way of growing your brand
How stories work — a quick (!) dive into the neuroscience
A simple method for telling your story so it resonates and draws people in
Where to find helpful, inclusion-driven resources
We also looked at some example stories together to see what works, what doesn't, and why.
Storytelling for Change
The Storytelling Lab podcast, Season 3 Episode 6
Rain Bennett makes 6-second stories on video, which is amazing enough on its own.
But he doesn't stop there: he also teaches storytelling in this groundbreaking podcast for NGOs & social enterprises.
So I'm honoured to be a guest on his show!
This is probably the most raw & real conversation about storytelling I've ever had. We covered topics like:
Do you have to be a naturally-born storyteller to resonate with your audience?
How can you overcome the embarrassment of telling a story?
And how do you structure that middle part of your story?
It can be dang difficult, but there are techniques and tips that can help you slay the Jabberwocky.
Magic Copywriting
Impact Hub Amsterdam, September 2019
Great copy can be the difference between people buying your ideas and products — or an indifferent shrug.
Websites, emails, storytelling, social media: this workshop covered the essential copywriting strategies that will set you up for success.
There was also plenty of time for Q&A.
Creating Culturally Aware Social Impact Brands
Social Impact CX Podcast, July 2019
If we want to achieve the Global Goals by 2030, we all need to work together. Understanding our differences can help us express our shared humanity.
And that's our best chance. I spent an hour in deep conversation with SocialImpactCX founder, John Corrigan. Listen below and look forward to nuggets like these:
How to get started with implementing cultural sensitivity in your organisation
How to adapt your social enterprise or NGO to your audience's cultural differences
The good, the bad & the ugly — examples of do's and don'ts
Purchase with Purpose: The Role of Storytelling and Experience in Sustainable Retail
NEONYT Prepeek, July 2019, Berlin
Hosted by Kerry Bannigan (UN Conscious Fashion Campaign), this panel looked at the power of storytelling to turn purchases into purpose-driven, meaningful actions.
I really enjoyed inspiring NEONYT visitors to tell better stories — together with my fellow panelists:
Hannah Kussel, Head of Retail, Das Gerber
Amanda Johnston, Curator and Education Consultant, The Sustainable Angle
#VEPSIambassador Nina Botzen / Chloé Mukai
Jorge Richardson, Product Manager, Closca Design
Thanks to the teams at VEPSI and NEONYT for organising the talk!
Storytelling for social purpose
#Ethical Hour Facebook Group
Is sustainable fashion the future? — Yes, if we master these 2 essential challenges
Future Fashion Focus: LIVE Mastermind, London, April 2019
"The secret communication tool for handling your users' cultural differences… elegantly"
Support Driven Expo Europe 2019, Belgrade
How to challenge brands on their use of plastic
#Ethical Hour podcast
Why Is Ethical Fashion So Expensive? (— Or Is It?!)
Ethical Brands for Fashion Revolution, London Museum of Brands, 2018
Together we rise!
Video interview with SHE Leads, February 2018
Meet the Change Maker
Video interview with Jen Gale, September 2017
You had me at hello: greetings and their significance for customer service — a study of 2500 UK consumers
(together with Martin Blacher) — Linguistic Im/politeness, Aggression & Rudeness Conference, Manchester Metropolitan University, 2016
10 tips for writing brilliant service emails
CC Expo, London Olympia 2016