Sabine's report: 3 things I learned at Neonyt Fashionsustain 2019
Neonyt is a new global hub for fashion, sustainability and innovation.
It consists of a trade fair, the Fashionsustain and #Fashiontech conferences, a Thinkathon, a fashion show, the blogger and influencer platform Prepeek and various events.
At the January 2019 conference, I was keen to find out how big the sustainable fashion market has become — and what topics are preoccupying the industry.
I got a mixed picture: on the one hand, it seems sustainable fashion is finally going mainstream. On the other hand, I became acutely aware of two major challenges that sustainable fashion brands must overcome if they're to change the fashion industry for good.
Let' start with the good news:
1) Sustainable fashion is coming out from its muesli corner
The hub's cool, industrial location set the tone perfectly: gone are the days of boring, "safe" and wholesome ethical textiles.
The displays at Kraftwerk Berlin (a former heating plant) were deliciously vibrant, gritty and fresh.
I loved the reminders of the venue's industrial past. From the subversive, witty statement prints on customised vintage at Polish SURPLUS PROJECT to the dreamy Parisian feel championed by French on-demand label Aatise…
From Swiss cotton manufacturer Remei giving out black T-shirts with bold golden prints drawing attention to the GM-proof cotton seed Namaskar Gold…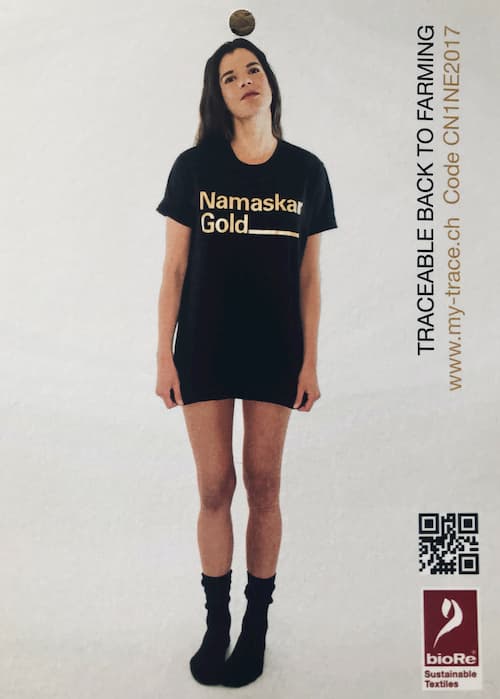 …to Marita Moreno's eye-catching shoes and bags, designed and crafted in Portugal (see her and a selection of her products at NEONYT 2020 in this YouTube video).
There were neon colours, iridescent surfaces, luminous all-over beetle prints and metallics. Whatever your style and budget, there's a brand that caters for you.
2) Sustainable fashion is multi-layered, multi-dimensional & pluralistic
One thing I love about NEONYT is that the organisers don't allow greenwashing and socialwashing. Every brand on display is bona fide sustainable.
The organisers thoroughly check companies for supply chain transparency, social responsibility and ecological responsibility.
They also randomly check the exhibitors' collections and allow a maximum of 30% non-sustainable items on display.
All to make sure we are "only ever presented with the highest level of fashion and sustainability" (as explained in the Hubguide).
That said, the list of criteria is long and complex.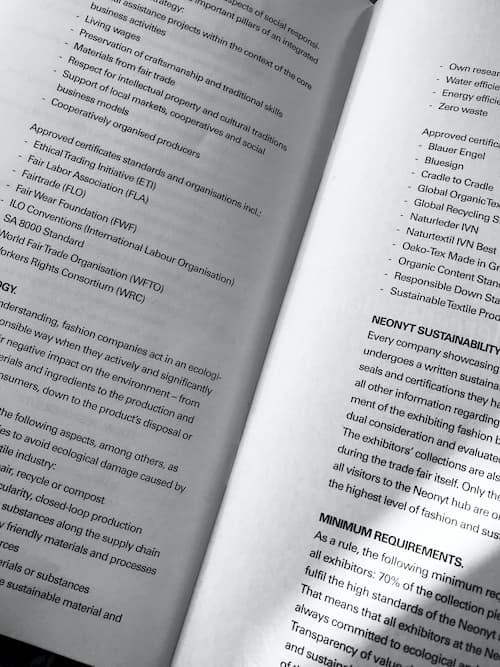 The organisers deliberately celebrate a variety of sustainable initiatives. There was vegan 'leather', and there were shoes made from heavy-metal free animal hides, a by-product from organic meat production. There were compostable T-shirts and coloured pellets made from recycled polyester, saving the need for water-heavy dying processes (presented by SpinDye).
Some exhibitors were members of Fair Wear Foundation, others were small-scale and cooperatively organised.
What does sustainable fashion mean?
As a result, each conversation I had inevitably moved to the question: "So, what does sustainable fashion mean to you?" Each brand had their own criteria, exciting innovation and fascinating stories to tell.
Which leads us to insight #3:
3) To change the world, sustainable fashion must master 2 essential challenges
Look at any fashion magazine. Look at social media. Look at in-store displays.
How is fashion traditionally sold?
Visually.
High-end, luxury brands excel at this.
Just a picture.
No words.
Sometimes the picture doesn't even show anything that's for sale.
It exists purely to evoke an atmosphere.
That's is an advertising technique of the past. "Just visuals" is not how to promote sustainable fashion.
True, even the most ethical fashionistas in the 21st century will fall in love with a design first. But within milliseconds of that emotional pang, they will ask:
What does "sustainability" mean to you?
How do you justify your use of synthetic fibres or real leather?
Sustainable fashion brands need to be able to answer these questions. Better still, they need to answer them before they're even asked, weaving their innovation and social commitment into engaging stories that people want to align themselves with.
This is the single most powerful thing setting sustainable brands apart from fast fashion — and from so-called "luxury" brands with big price tags, but which are still made in secret, mysterious, murky supply chains.
In sustainable fashion, there are no secrets. There's no mystery.
As consumers, we stand in awe of the brilliant tech, the magnificent artisan skills and the honest hard work these sustainable brands put into their collections.
The Neonyt PrePeek area proved the point: a dedicated area for bloggers and influencers.
I particularly enjoyed VEPSI's enlightening panel discussion about how Instagram can help us move from fast fashion to fair fashion — and their impact on the Sustainable Development Goals.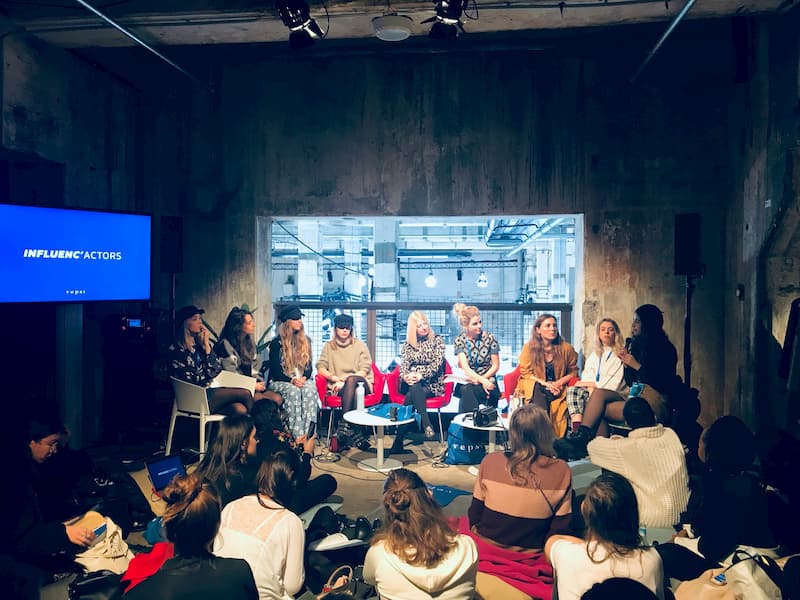 The panel was inspirational and diverse: Kerry Bannigan (centre, red chair; Executive Producer of the SDG Media Zone: United Nations General Assembly in partnership with the United Nations Department of Public Information and PVBLIC Foundation) joined VEPSI founder Eilean von Lautz-Cauzanet (4th from right) and 6 VEPSI ambassadors from around the world.
Encouragingly, their polls on Instagram showed that people crave more information and better storytelling around these topics.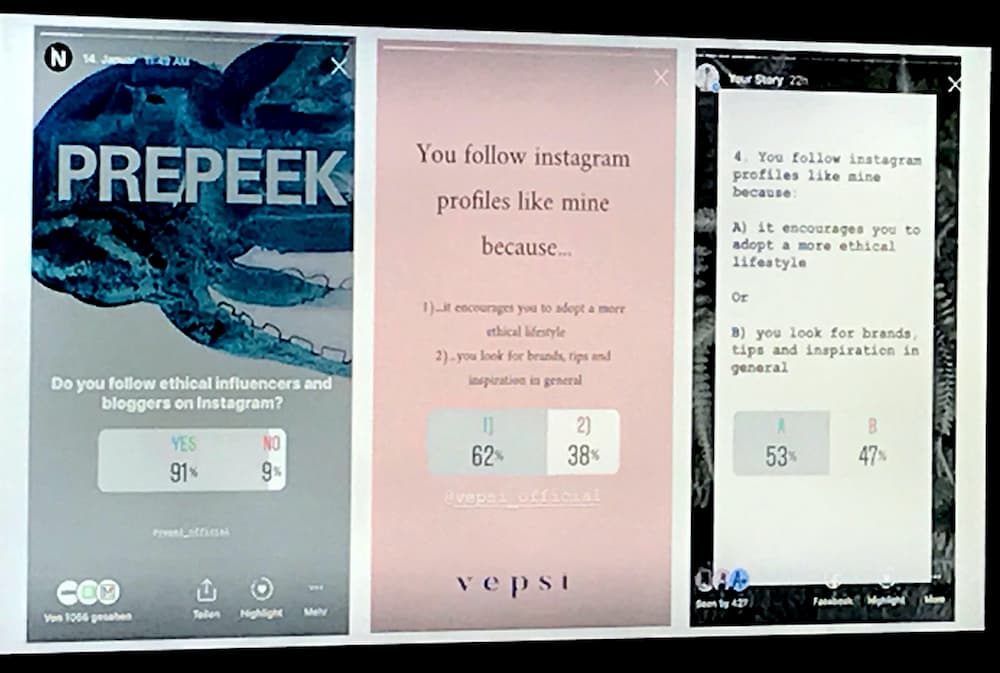 Do you follow ethical influencers and bloggers on Instagram? — 91% YES, 9% NO

You follow instagram profiles like mine because — 62% it encourages you to adopt a more ethical lifestyle, 38% you look for brands, tips and inspiration in general

You follow instagram profiles like mine because — 53% it encourages you to adopt a more ethical lifestyle, 47% you look for brands, tips and inspiration in general
In between talks and panels, I got to know the brands.
Almost all of them sell directly to the public via their own online shops. Almost all of them said that their biggest challenge was sales.
Challenge #2: Mastering the science of sales conversions
The AIDA sales funnel formula is a great tool to help us overcome this challenge.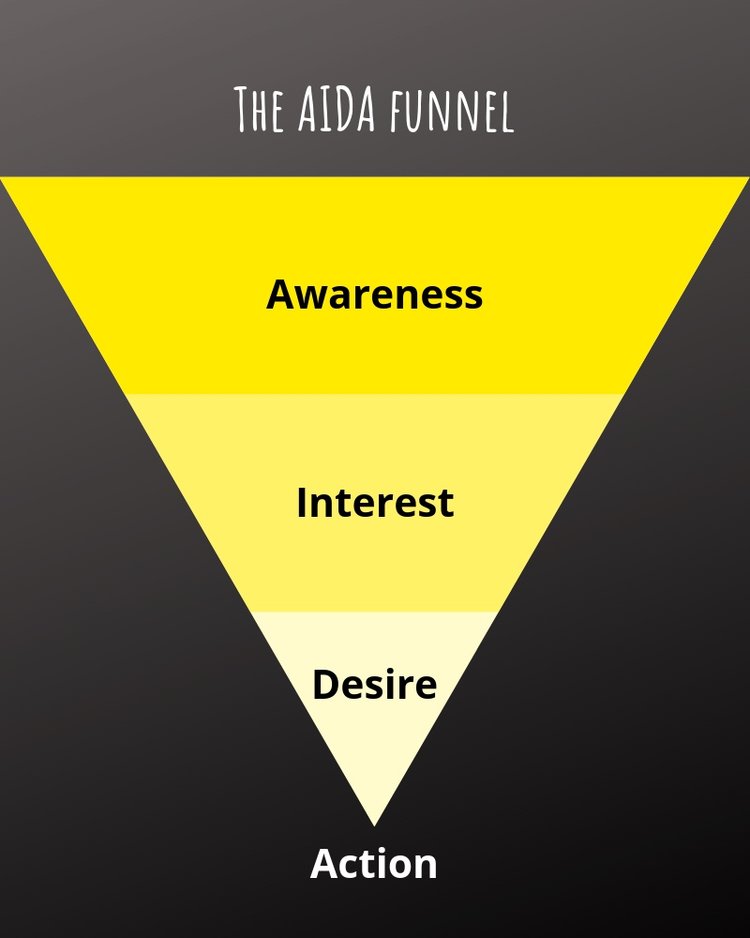 Simply put, it describes the journey from "never heard about your brand" to "paying customer" as 4 steps that need to happen in the right order.
The top of the funnel is working: we've got a hunger for the stories and images of these brands, and lots of engaging influencers creating awareness of their products. But this doesn't seem to translate into action (aka sales conversions).
Why?
To find out, I examined the websites of a cross-section of exhibitors. Here's what I found:
Non-existent middle of the funnel
Just because people are aware of your brand, that doesn't necessarily mean they're ready to buy yet.
It may not be the right time. Perhaps they want to find out more before they commit. Or they like your style in general, but you haven't got exactly what they're looking for.
Enter the '"middle of the funnel" (affectionately known as MOFU) to bridge that gap between awareness and action.
Most brands I audited had zero to offer to these potential future customers:
No educational content (blogs, useful resources, downloads such as ebooks)
No easy reminders of the brand's unique value (newsletters, invitations to connect on social media) — which is the best way to ignite lasting, sustainable desire
That lack of investment into Interest and Desire puts a lot of pressure on influencers. They need to keep the conversation going, remind their followers of a brand's existence and accurately represent the brand in terms of facts and personality.
That's difficult.
And because so many influencers stand for a cause rather than a specific brand, it's well nigh impossible for them to achieve.
OK, let's move on and imagine we're at the end of the funnel, ready to take action. For the true fans who want to buy their dream item now, the picture is no less bleak:
Broken bottom of the funnel
No English version available for international customers (or an automatic translation plugin creating unintelligible text)
Lack of shipping information — no details of delivery times and cost
Returns information difficult to understand
Language errors in German and/or English, resulting in unclear website copy and unintended unfriendliness
No calls to action
No sizing information — size only visible once item has been added to cart

Product details that include no sustainability information whatsoever

, although the brand knows everything about how things are made
Good-looking sites that are difficult to navigate through misleading menus or that include too many broken links
It's totally understandable that mission-driven brands are laser focused on their cause rather than on refining their websites… at first. But once you're ready to grow and change the world, you need to make things super easy for the folks who want to align with you.
Allow us to stay close to you via great middle-of-the-funnel content. Allow us to support you financially by making shopping on your site easy as child's play.
Let's make sustainable fashion the future: we can fix this
If storytelling and making more sales are on your wish list, we can help. Together, we can rise to the challenge without changing your business plan, company setup, your physical products or even your tech.
Words are the most powerful sales tool — and writing for conversion is our specialist skill. If you're ready to take action now, we'd recommend starting with a website audit. That way, you get immediately actionable insights without committing to a lengthy project right off the bat.